Cephalopods and Mycenians in the Argolic Gulf
7th - 17th June
It's raining in Poros. Pouring in fact. Cats and dogs.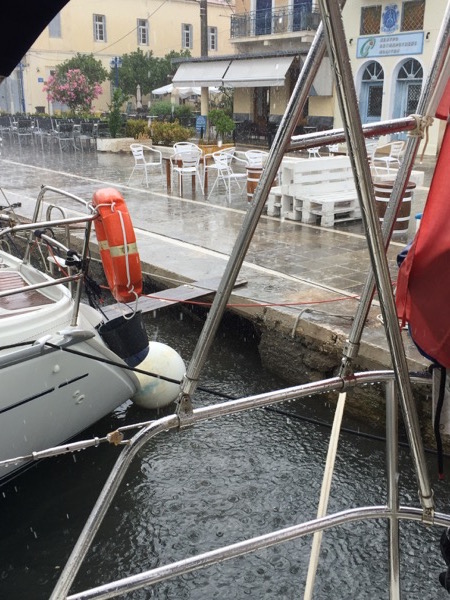 Talking cats, when dropping anchor yesterday I glanced over the side and saw a beautiful ginger one float by, tail up, as if it were just walking along. A bit odd, unused to seeing death as we are.
This morning however there was a large and very alive octopus. Just a meter or two away, walking along the harbour wall. When I came off the boat to try to film it up close it started blending into the background. When I walked away again it transformed itself back and continued its journey along the wall. I could see its eyes opening and closing! Big eyes.
Click HERE to see the cephalopod
When it rains it really does rain. The heavens open. There's often thunder in the hills, rumbling away.. I can understand how Zeus, being boss god, was the God of thunder. The clouds towering over the mountains and his threatening rumbles are quite anxiety inducing. Puts me in my place. Where will he strike next? Will it be us...?
Poros is a charming town in a large natural harbour / bay. Yachts and motoryachts line the quay, one bigger than the next. Not far from Athens and a destination for the jet set in motor yachts, which aren't built for any seas or wind.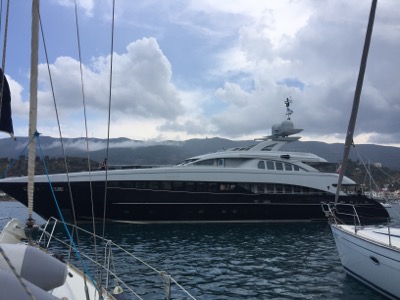 Uniformed staff are at the ready, rag in hand, shining up the metal work and buffing the GRP. Many boats have lights illuminating the sea below at night. Looks quite cool but must be confusing for sea creatures.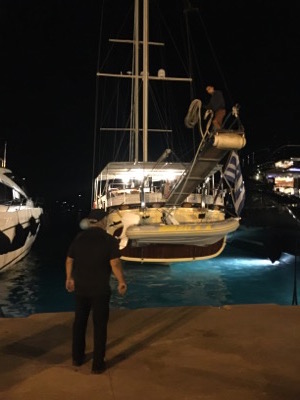 There are chandleries in Poros and in less than 24 hours Paul has succeeded in getting a new UV strip stitched onto the genoa, had a replacement piece of wood made to measure for the grabrail by the companionway, got some jackstays made, and sourced a windshoot to keep us cool at night. Paul is a quietly effective fellow. If I happen to ask him what he is doing when I spot him furkling around with something, he says things like "I'm just 'recalibrating the flux gate compass' / 'changing the thermister in the log sender for a fixed resistor' / 'replacing the first stage fuel filter'. Or words to that effect. White man speak with forked tongue. I reply 'Mmhmm...'
Or he might say 'I'm having a butcher's at the anchor'. I did actually ask him what he meant then and he had to google it himself. ('Butcher's hook' = 'look' in Cockney rhyming slang.) When I ponder whether we might be more frugal, he comments 'it's not worth spoiling the ship for a ha'purth (half penny's worth) of tar'. Disarming. I put it down to the Blarney Stone, a gift that just keeps on giving. Paul and I both kissed it when we went to Blarney Castle in County Cork but it hasn't had same effect on me. It's an ancestral thing I guess. Generations behind him probably kissed it. I don't know why you have to kiss it backwards lying down though. Bit odd.
Anyway, where were we? From Monemvasia where we left you last, we headed up north in the Argolic Gulf, stopping for a night in the bay of Fokia, tempted by the description 'wonderful wild surroundings' in the pilot book. Since then a road has been cut into the hills like a deep wound.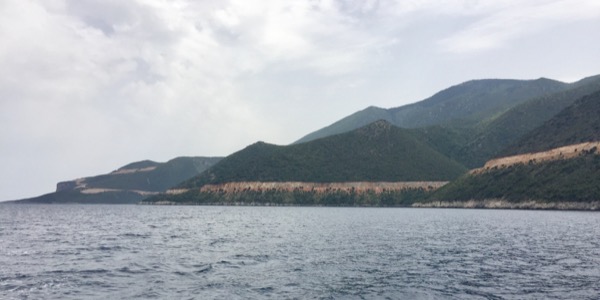 In the time we were there we saw one single car drive along this road. Who has paid and what possible economic benefit can justify this irrevocable act..? The bay is still lovely though if you look the other way.
From there we went east and dropped the hook in a bay on the island of Spetzes, near the beautiful sailing vessel 'Puritan'. The unmistakeable aroma of cigars drifted delicately downwind to us.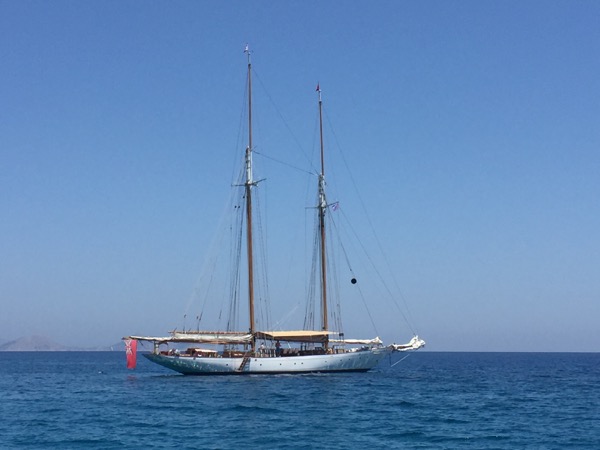 Google tells us that the boat was built in 1931 and is now a charter with six staff, available to hire for 6,500 Euros a night. Aha. Explains the cigars... Checking the forecast however we decided to head for safe harbour in Porto Cheli where we spent a windy night after a swim and dinner onboard, returning to Spetzes the next day. A beautiful town and the setting of John Fowles' book 'The Magus'. It is favoured holiday destination for Greek people, with a touch of the Italian riviera. No cars, only mopeds, bicycles, pedestrians and horsedrawn carriages for the tourists. Anything and everything appears to be transportable by moped in Greece: chickens, dogs, babies, any number of children, infirm elderly relatives, trays of take away coffee, you name it.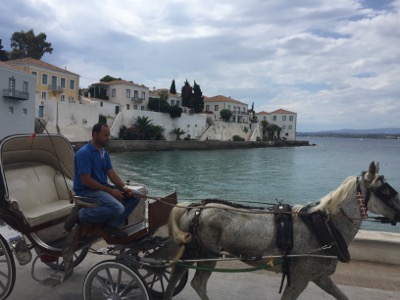 We found space on the corner of a tiny quay in the harbour, a small but perfectly formed confusion of rusting hulks, tiny fishing boats, superyachts, wooden schooners, working boatyards and smart waterside restaurants.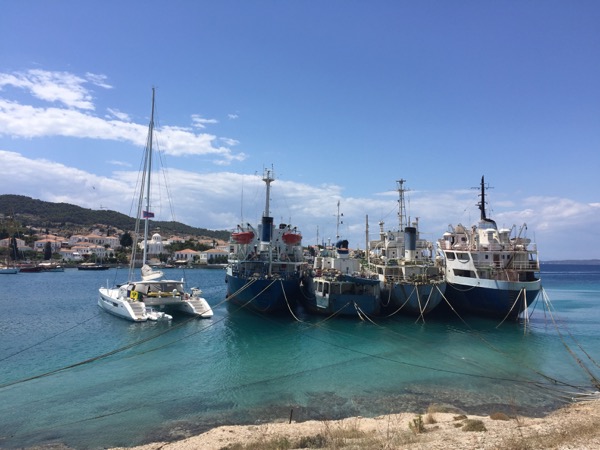 Nice pebble mosaics all around town.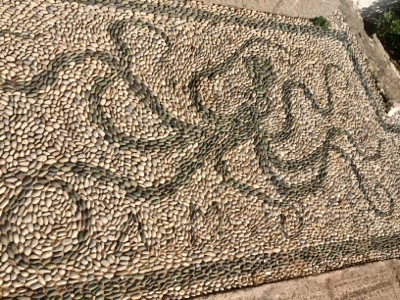 Inevitably for such an attractive place there was competition for space on the quay. Slightly nervewracking to watch not only one but two charter boat reverse into the narrow space between us and our neighbour from across the harbour. All's well that ends well.
Turning northwards we headed for Navplion at the top of the Argolic Gulf. After a long motor we dropped anchor in Drevpanou bay, passing this lovely chapel at the entrance.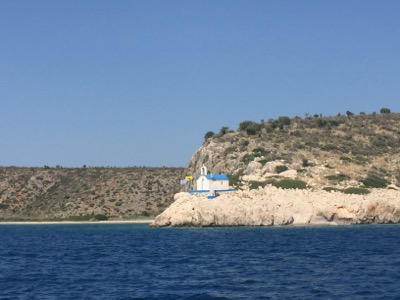 Unusually there were two Norwegian boats next to us, one of them with a group of older men. Next morning when we arrived in Navplion they were already there. Paul struck up conversation upon which it emerged that one was a neighbour of mine in early childhood, and another a good friend of my father's. A nice but discombobulating little time/space warp, a bulging of the past into the present. But time of course is not linear. I have been chewing on that for 30 years.
Back to Navplion. Well. Just another astoundingly beautiful place. It was considered alongside Athens when a capital city was needed after Greek independence just under 200 years ago. A lucky escape perhaps: With only 3500 inhabitants it retains its original character and charm. More Venetian castles - one on a islet at the entrance to the harbour,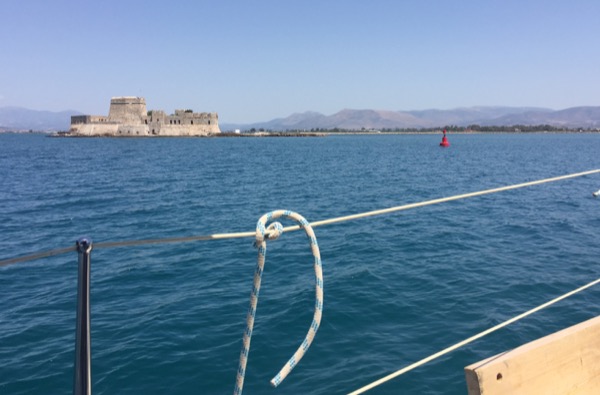 and one on top of a 200m hill. Below is the view from our boat on the quay.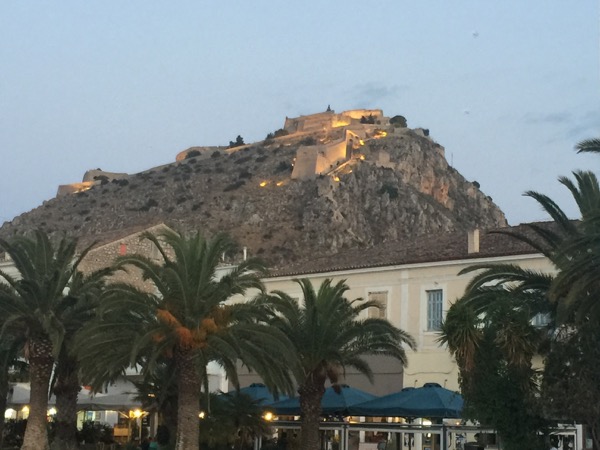 We got up early to climb the steps. The fortification was ambitious but built in just the four years of 1711-1715, utilising all the latest strategic military/architectural knowledge. Venice must have been peeved when it was lost to the Turks just before completion.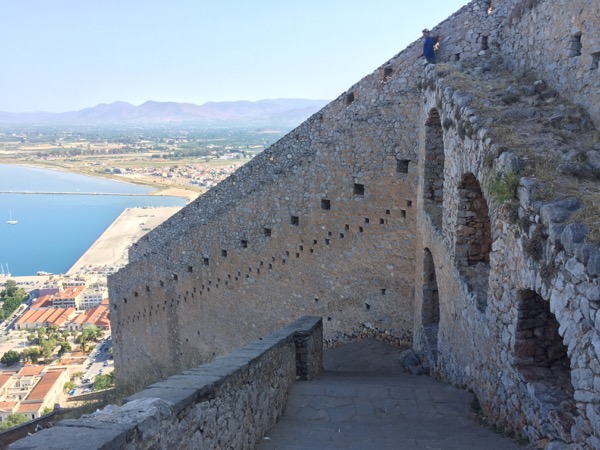 Struggling through a low doorway into small dark hole, then through another small stone opening, we visited 'the prison of Kolokotronis'. Basically a hole in the rock with no light. We humans keep each other in such places. Knowing this and being in such a place are two different things. Kolokotronis was a General and a hero of the Greek war of independence who later spent 6 months in solitary confinement here accused of treason.
The archeological museum in Navplion was a window into the lives of the Myceneans of 1600-1100 BC, the era of the Iliad and Odyssey, when palaces / forts were centres of commerce and their rulers became very rich. Gold death masks have been found. Here is Paul inspecting a warrior's bronze armour.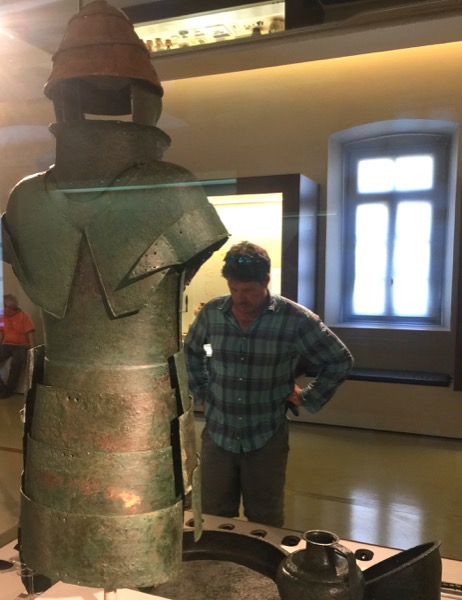 He had a leather helmet covered in ivory from boars' tusks, showing off his prowess in the hunt as well as providing protection from the opponent's sword, which looks like it could do some damage.



Having just read the Odyssey (....did I mention that..?) it was fascinating to see the ceramics and jewellery and domestic things that adorned the palaces described therein. How colourful this ancient past was. The women of the palaces must have looked stunning in their necklaces and bracelets of gold and coloured stones.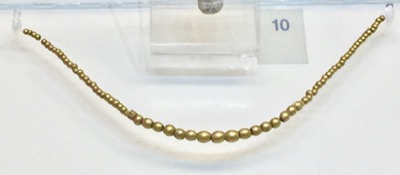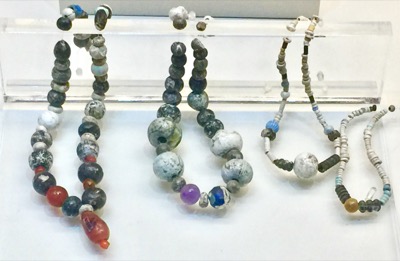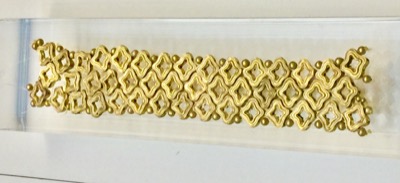 They were able to check themselves in polished bronze mirrors with ivory handles, and brush their hair with delicately toothed ivory combs.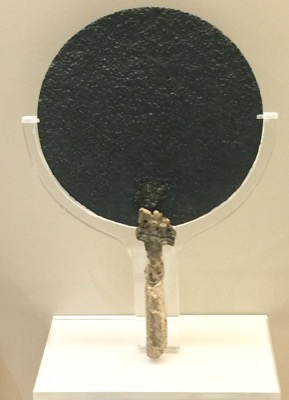 Foods were stored in colourful and elegantly shaped pots.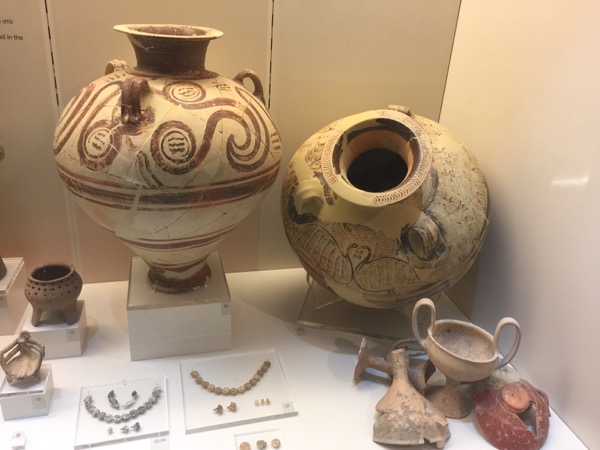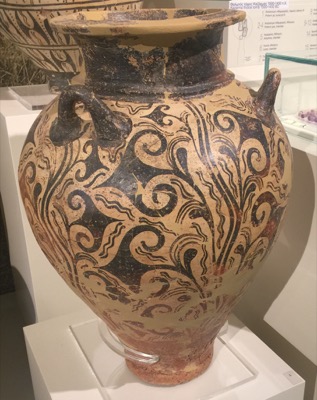 No doubt they also had beautifully woven and coloured clothes. The miniature clay figures of women holding babies imply that they wore garments of striped cloth.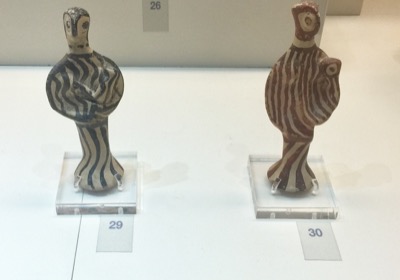 I wondered at this tiny army of horned cows. Were they for the children or perhaps interred with a prince to give him provisions and status in the afterlife?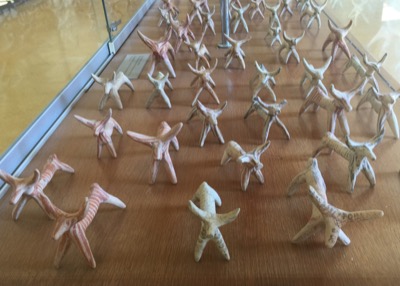 Navplion was charming at night and we had a lovely meal out and a wander round the town. In the morning I finally stepped up to the mark and did some manouvering practice at the wheel, reversing onto and coming alongside the quay. Good to know it's doable. With the wind on the nose again we motored south to a bay by 'Seagull island' as we called it, and then the next day on to another very lovely sheltered spot between some islands (Nisis Spathi) just past Hydra. A good night for stargazing. We watched Castor and Pollux sink below the horizon as Scorpio rose, and then went night swimming. The fluorescent algae lit up with the movement of our limbs. Odd seeing your legs as shadows in the underwater light. Lovely and mysterious how the fluorescent sparks in the depths below mirror the starry firmament above.
Back to mundane reality, next day we spent some hours adressing a blocked pooh shoot in the holding tank, with each of us in turn swimming round the side of the boat and poking a hose up into the outlet in the hope of relieving the constipation. This of course carries the risk of being covered in sudden emissions. The strategy however proved fruitless I'm glad to report, but after a variety of other determined interventions Paul managed to solve the problem as is his way. Glad to be able to sport a fully functioning toilet again.
And so we came to Poros. We spent the first night right outside the town's only two nightclubs. We moved to the church for the second night, having forgotten how early they start ringing their bells on a Sunday morning. Beautiful church though!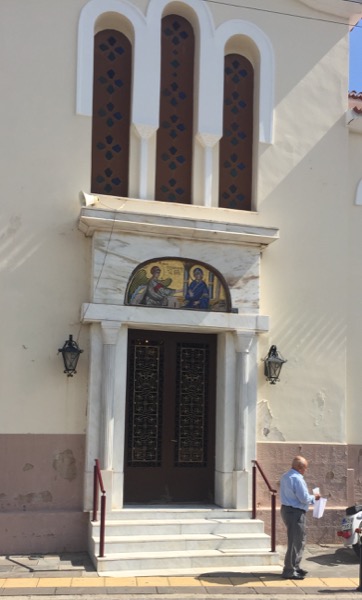 I now have greatly increased confidence in the powers of our windlass, yesterday having pulled up our anchor with not only another chain and anchor attached to it, but also a large heavy rock cemented on by grey clay. We managed to get out of this tangle easily enough but had a fair few other mooring shenanigans with Italian, Polish and German boats, fortunately emerging unmarked. In Poros we also bumped into a lovely British/Canadian family on a boat we have met before, with two children of whom one has Down's Syndrome. The people we meet and hearing and sharing some of their adventures is all part of the magic melée.
In the little archeological museum in Poros these tiny clay figures helped me understand how Prometheus would have fashioned the first humans like this, out of clay, in the image of the gods.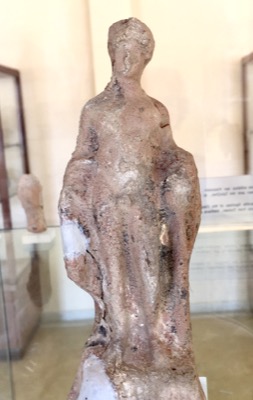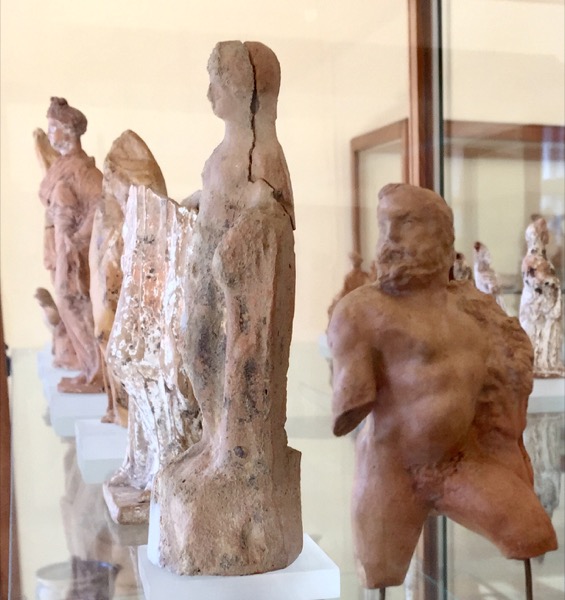 Tiny things - the male figure no bigger than my thumb - but made with such artistry that when Athene breathed on them they came to life. The purpose of which was to provide Zeus with some entertainment.
I can see how from the peaks of Mount Olympus where Zeus was sitting, humans must seem like playthings. Just look at the tiny things swimming in the sea here.