With Finn, Millie and Flemi through the Gulf of Corinth
16th August - 3rd September
Where were we...? Ah yes, Tinos! Finally we broke free of our landlock, with little time to spare to make it over to Athens for Finn and Millie's arrival.
The wind dropped to rather more manageable a few miles out to sea and after a short breakfast break in Ormos Grammata on the island of Sirros we sailed on to the bay of Kolona on the west side of Kythnos, 45 miles all told and a good day's sailing after so many nights on the quay. A rocky night however as we were open anchored in a bay open to the shipping lanes, but favourable winds again the next day on our route towards Kea.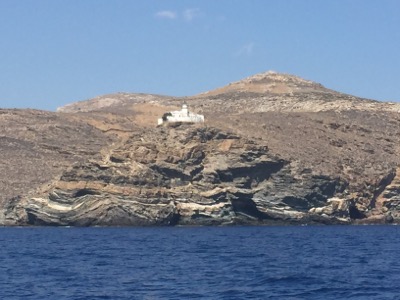 After a night in Caundouros bay, a touristy spot on the west coast of Kea, we finally arrived at the mainland in the bay of Anavissou, very much back in charter fleet territory. A windy day, we dropped anchor with 40 meters of chain out, motored back hard on the chain to ensure it was well dug in, swam over with goggles to have a look, put on the snubber (three meters of nylon rope attached to both bow cleats to take the strain off the windlass), set anchor alarms for both depth and position, and made sure one of us was onboard at all times. Meanwhile a couple arrived next to us on a flotilla yacht, dropped their anchor, sort of stood looking down at it for a few minutes whilst studiously ignoring the German on the next boat who was whistling and gesticulating that they were too close. Later on we noticed the boat had gone however so we assumed they had decided they needed more room to swing at anchor. About 11.30pm however Paul heard an outboard motor buzzing towards us with someone saying "I can't see the boat! You did turn the anchor light on didn't you?" Turned out the boat had drifted downwind and was near the rocks.
Grateful once again to be reporting to Captain Paul.
After our second night here we set off by sail initially into strong headwinds towards Zea Marina near Athens for our rendezvous with Finn and Mille.
As the wind shifted we had to motor into it. Paul got soaked up on deck whilst I hid down below....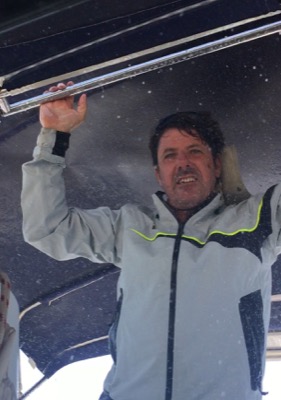 On arrival at the marina we spent some time dousing the salt off first the boat and then ourselves in some very welcome fresh water. Then Finn and Millie arrived - Ta-da! We did a big supermarket shop with our poor sleep deprived visitors in tow and cooked onboard. The next morning we left the city with not only Finn and Millie but a large inflatable pink flamingo on board.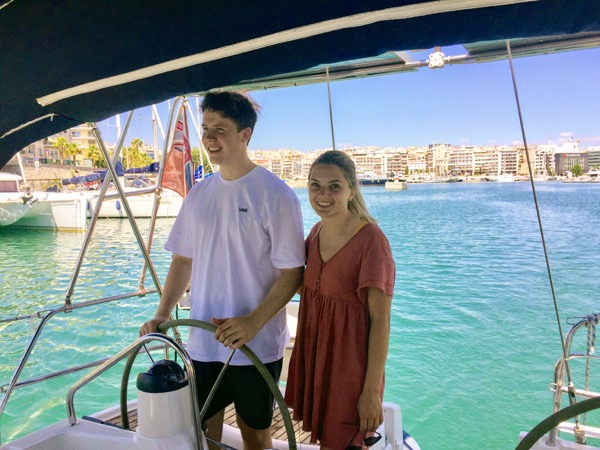 First stop a bay on the island of Aigios Thomas.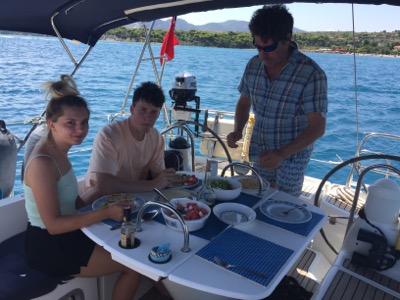 Next the Corinth Canal. Once there we were told to moor alongside so we could pay the 200 Euro fee. Then back out again to anchor in the bay outside the entrance until it was our turn to pass through. This took some time. Once into the canal it is clear why traffic is one way only. An impressive feat of construction.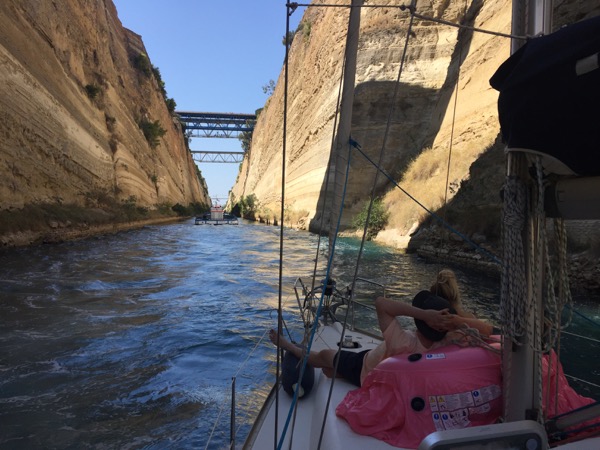 On the other side we headed in to Corinth and moored alongside on a strangely empty and once again slightly run down marina, paying a random man his requested 5 Euros for his efforts to guide us in to a quay with water. There were a lot of beggars in Corinth, our sense was that he was an enterprising one of these. Paul cycled to ancient Corinth, quite a job in the August heat. I had a siesta instead.
Wonderful Pegasus sculpture in the fountain on the sea front. Wherever Pegasus strikes his hoof a spring bursts forth, the fountain must have been one of those.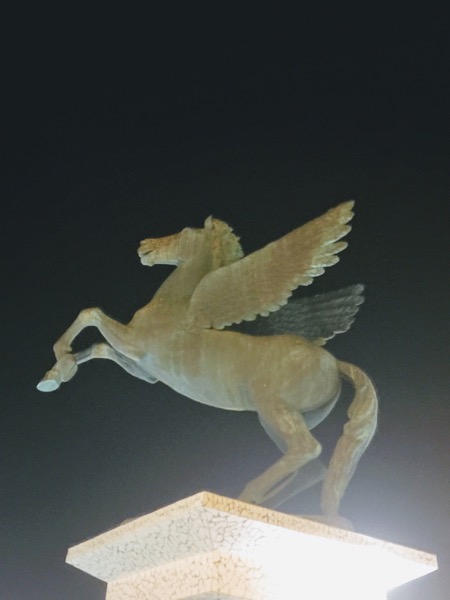 The mixed grill in the grillhouse that evening proved a bit too meaty even for Finn and Mille though. Vegetables are few and far between in a Greek grillhouse.
From Corinth we hoisted sail and set off beating into a strong headwind.
Paul and Finn did some performance sailing, pushing the boat to its max, giving Millie quite an introduction to sailing down below.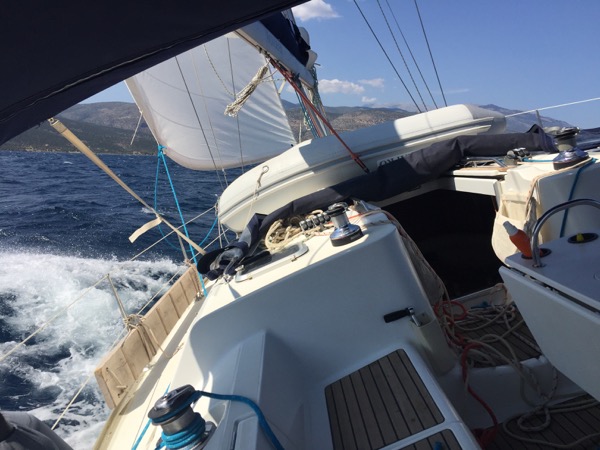 We dropped anchor in a bay on the north side of the gulf (Ormos Stenovaltos).
A short hop next day to the little town of Galaxidi, finding a spot on the quay in the charming little harbour.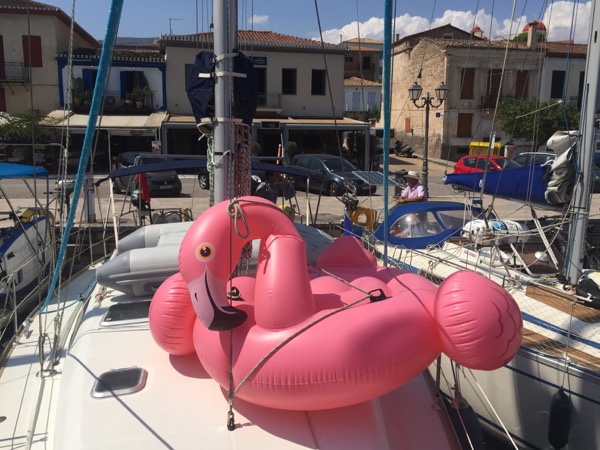 At the swimming place further along the quay the locals gather and natter in the late afternoon. Always enjoy those places. No need to pay for a drink in order to sit under an umbrella, and there is usually have a vertical pipe or two with a shower head on. It's lovely seeing neighbours of all generations chatting and exchanging pleasantries. The older folk spend late afternoons floating about in groups in their sunhats and sunglasses passing the time and keeping cool.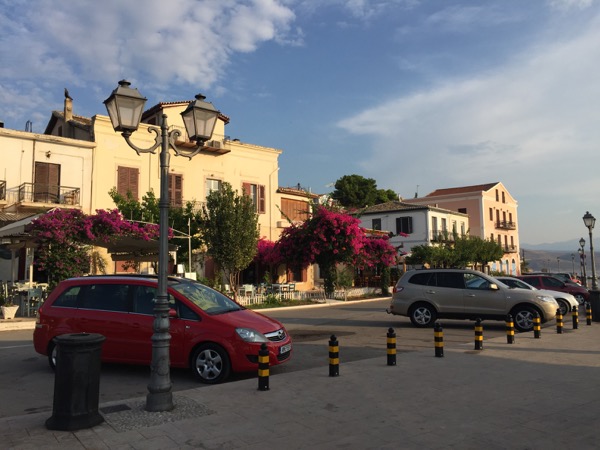 As ever the sleepy first impression of Galaxidi at midday belied the nightlife, with the quiet cafe just across our gangplank turning into party central at midnight till dawn. Earplugs are a wonderful invention. The following day we hired a car and drove the 30 minutes up to Delphi. The heat in Greece reached new levels specially for Finn and Millie's visit. The pleasures of an air conditioned car were greatly enjoyed by all.
Delphi! The navel of the earth, where the two eagles sent out by Zeus to find the midpoint of the earth met. A most spectacular setting for the oracle. Remarkably, we got to wander amongst the sacred topography of the ancient world largely unencumbered by others.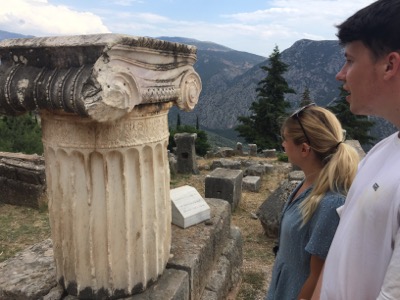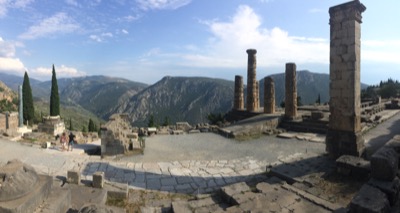 Next morning with thunderstorms forecast we motored into an increasing headwind to the island of Trezonia where we went alongside the quay in a slightly run down but large and safe marina ten minutes walk from the town. Another pleasant village with a beach and a free shower, cafes and restaurants lining the front, with mainly Greek holiday makers. No water on the quay but a tap on the other side, so Finn and Mille ferried water bottles to and fro to top up our water tanks.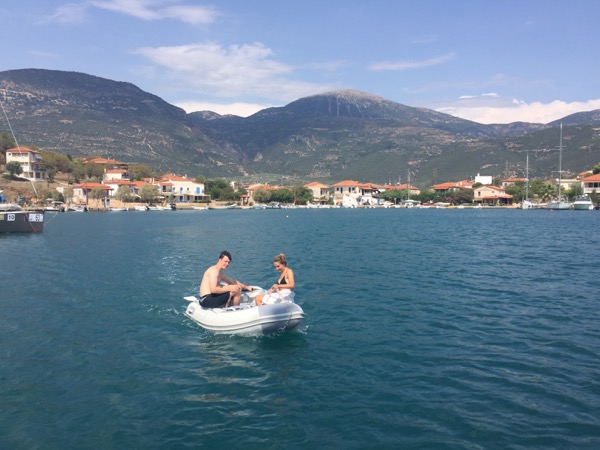 Paul barbequed in the pouring rain of a thunderstorm, the chops & halloumi and salad tasted all the better in the saloon. After a second night in Trezonia we headed west to the medieval harbour town of Navpactos, which wins the prize for the most picturesque harbour of them all. Here a view from the cafe on the harbour wall.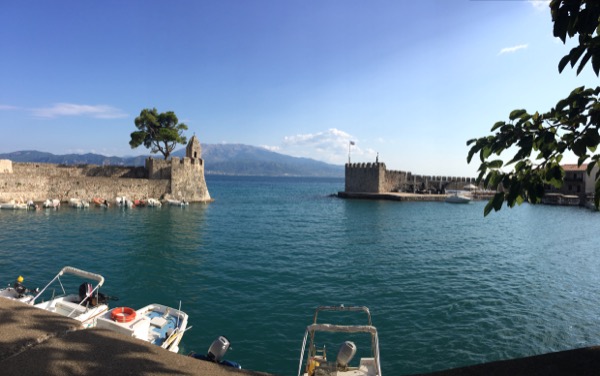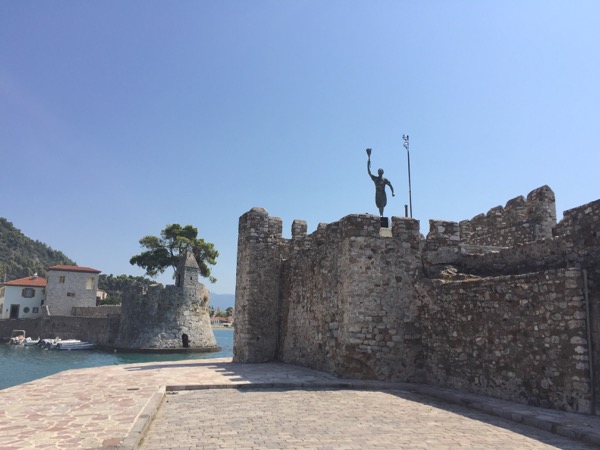 Navpactos, like Delphi, seemed strangely unthronged for such a beauty spot. Paul and I walked up to the Venetian castle within whose walls the whole medieval town sits, only to find it shut.



Nice views though and a delicate scent of pines.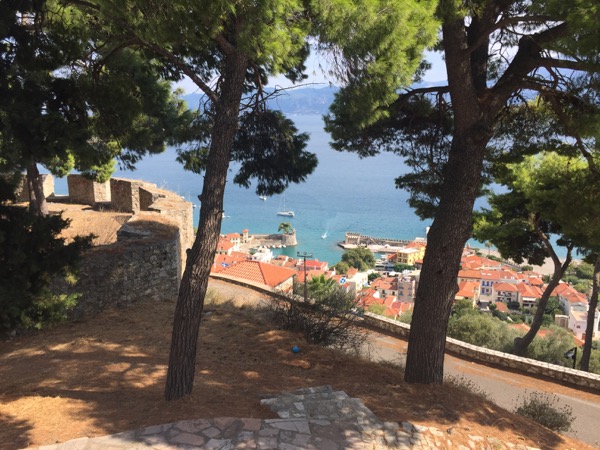 The next morning we set off in the dinghy en masse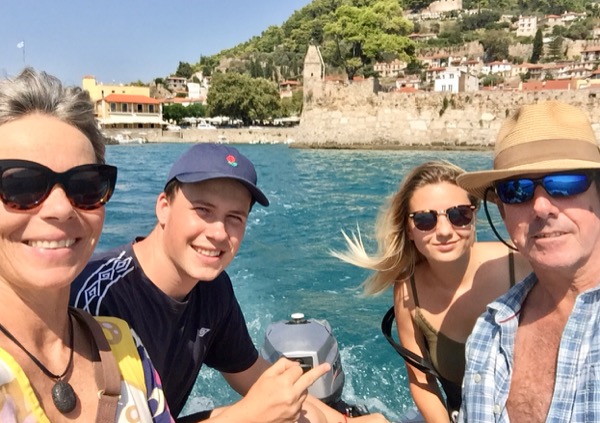 to check out the castle again. Open this time.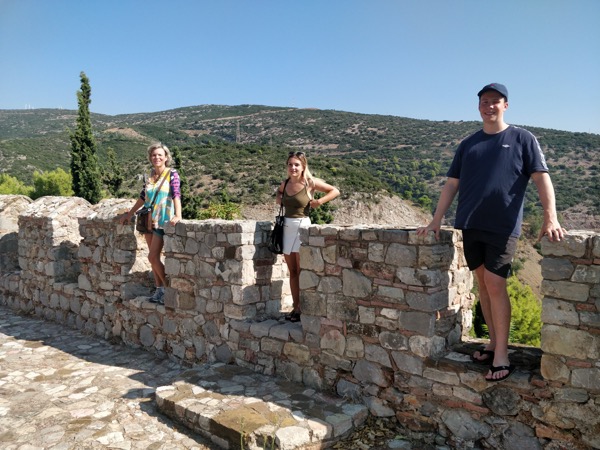 Finn and Millie found some ants...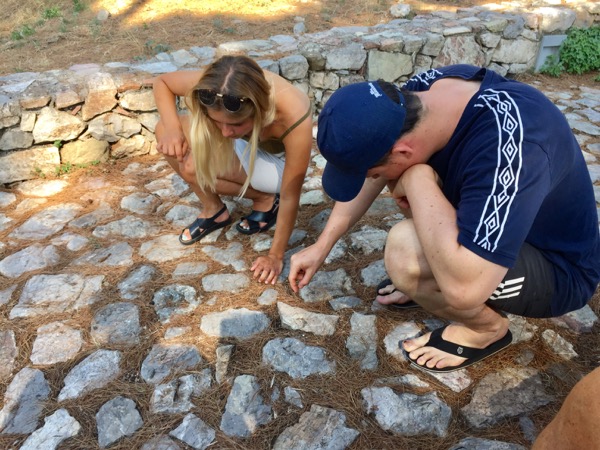 From Navpactos we journeyed on to Mesolonghi, a 25 mile sail with a 15-20 knot following wind. Mesolonghi is like no other place we have been, basically a salt marsh. Long green sea grass a few meters untder the surface, and houses built on stilts (?) line the shore.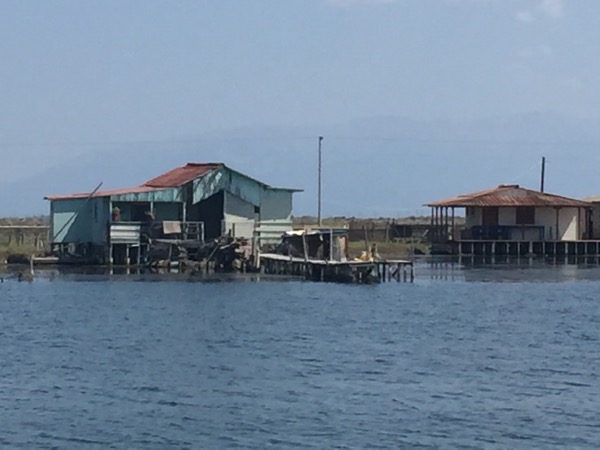 Paul and I cycled around Mesolonghi and took in the sights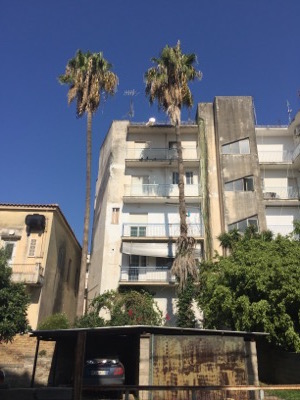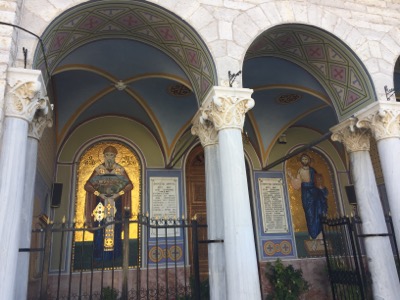 Byron died at Mesolonghi fighting for Greece in the war of independence. We found him in the 'Garden of Heroes', a park with monuments to the many brave men who layed down their lives for Greece.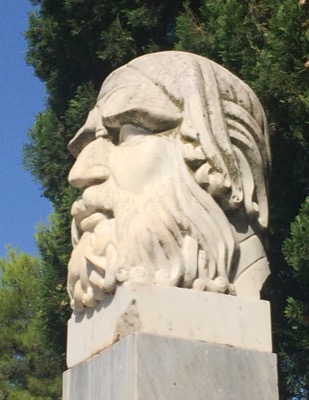 The books tell you that Byron's heart is here but the park attendant said it is his intestines that are under this monument. It would make sense. The intestines would need to be removed to minimise decay on the body's journey back to England. And he did give his 'guts' - his courage - to Greece.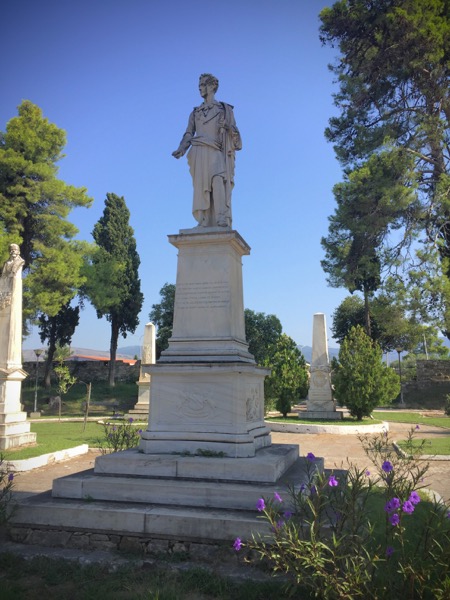 On the quay in Mesolonghi we met a delightful man sailing his yacht solo at the age of 83, blind in one eye and having recently suffered a stroke. He has a 'perfectly functional' wife back in Devon but she believes it is dangerous living on the boat at their age. He considers a bungalow far more dangerous: 'Imagine! The boredom!' Born in India and a cousin of Patrick Leigh Fermor, the author of the book Paul was reading.
Leaving the flatlands of Mesolonghi we headed for the island of Oxia where we put lines ashore in possibly one of the loveliest little bays Paul has found, all steep wooded hills cascading into the sea. The wash from ferries crossing was a little disturbing at times, but once again our anchor once proved worth its weight.
Balancing defensive mozzie action with the need for air in the rear cabin is a challenge. With little wind there was no breeze to take the edge off the heat at night. Sleep was had where and when possible. Finn and Millie resorted to the foredeck, and Millie spent quite a few nights on the seats in the cockpit.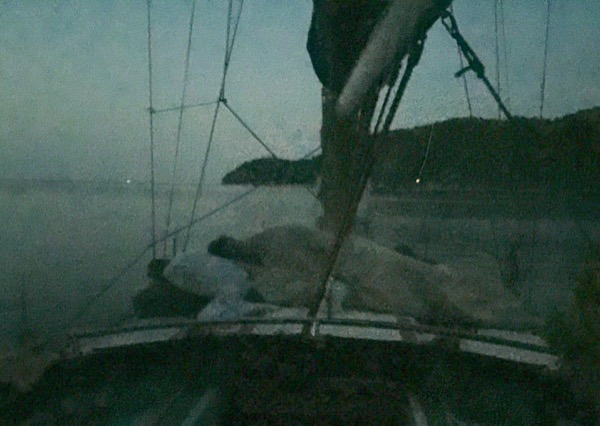 Sleep or no, we had a plane to catch so ventured ever westward. Flemi looks quite happy strapped onto the dinghy as we leave Oxia in spite of her broken wing that Paul and Finn fixed with some cable ties. I think she had a fun time there.


We headed for Kioni where we anchored with lines ashore in the bay and cooled down in the water. From Kioni it was a short hop to Ay Andreou, the secluded bay on Ithaca where we spent two nights previously. This time we had more company and a few episodes on the yachting channel to watch.
From there a short trip next morning to Poros and a taxi ride to the airport for a flight to Berlin. Paul found a laundry lady who just about managed to bring the washing back before the taxi left.
We drowned our sorrow over their departure in a taverna with a view second to none.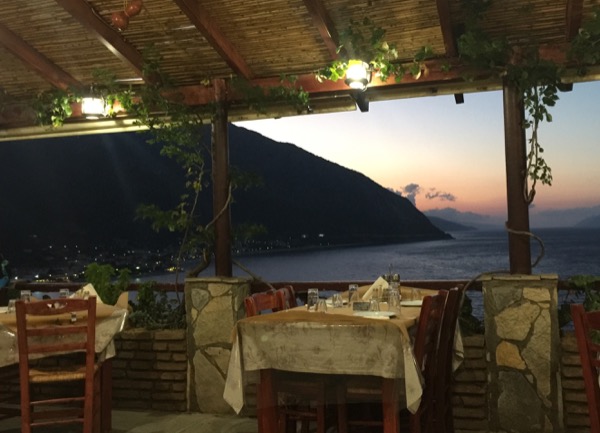 So long dear and lovely young ones.