19-24th April
Well here we are, back on Lefkada island.
We have not travelled far from our starting point yet but we have been exploring the islands and spent a few nights on the island of Meganisi, initially in the little town of Vathi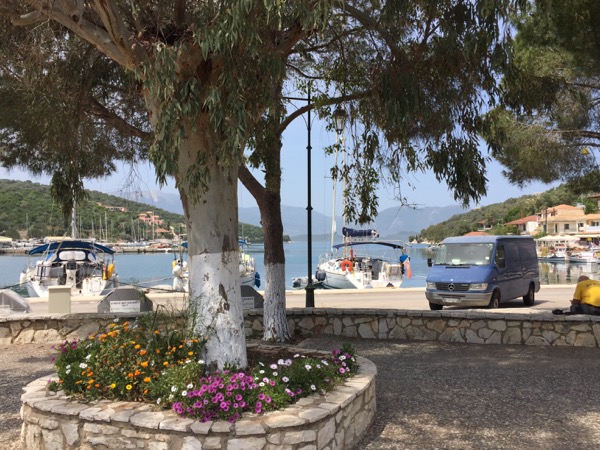 where strange long orange flowers hang from the trees..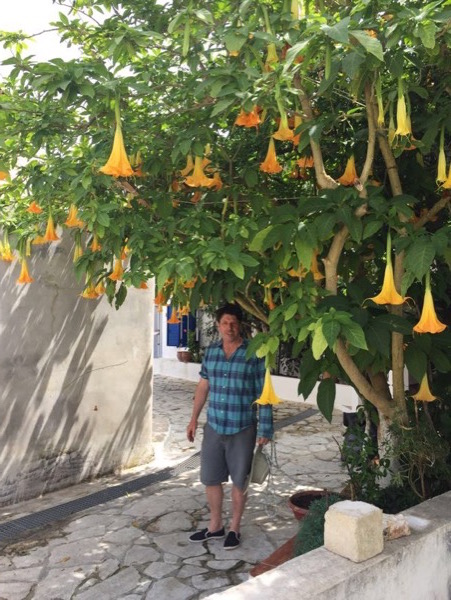 The plan as far as we have one is to stay around the Ionian for the next 2-3 weeks. This is one of the most popular sailing areas in the Mediterranean so it is a good opportunity to enjoy the islands, bays and small towns whilst we can still hear the lapping of the waves from our restaurant table.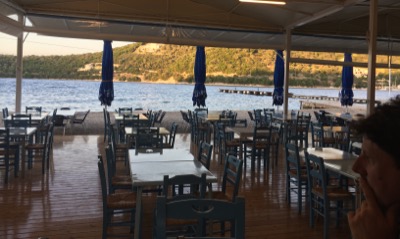 A highlight to date has been the view from Spartachori, a tiny village next to Vathi, perched atop steep green forested cliffs rising from the bay where we were at anchor on a mooring by the above depicted taverna.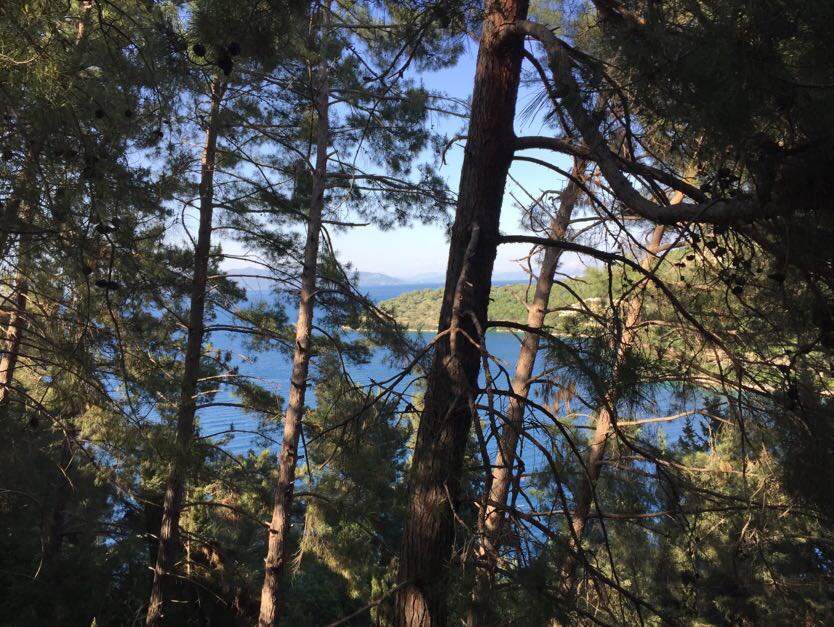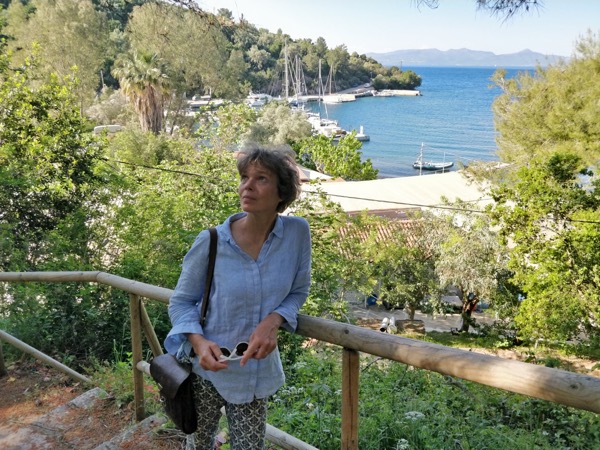 Click HERE to see the view from the top
Walking through the clifftop village amidst the patchwork of small houses and courtyard gardens with flowers and lemons dropping from trees, on cobbled streets wide enough only for mopeds and tiny cars, we came across a small church bedecked in bunting.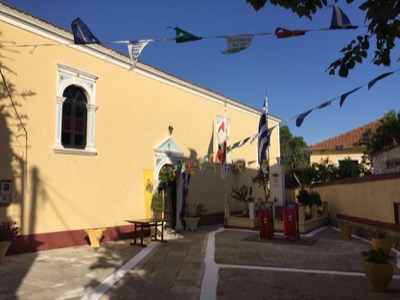 Not a wedding but ready for St. George's day celebrations on 23rd April. A black-clad priest emerged into the courtyard and exchanged a few words of English with Paul. So far we had only peered through church doors and not been into any, not wanting to be intrusive as they are very much living places of worship. The priest beckoned us however so in we went. Inside itvas like tgr inside if a jewellery box, so much colour, such splendour, so ornate for such a tiny place.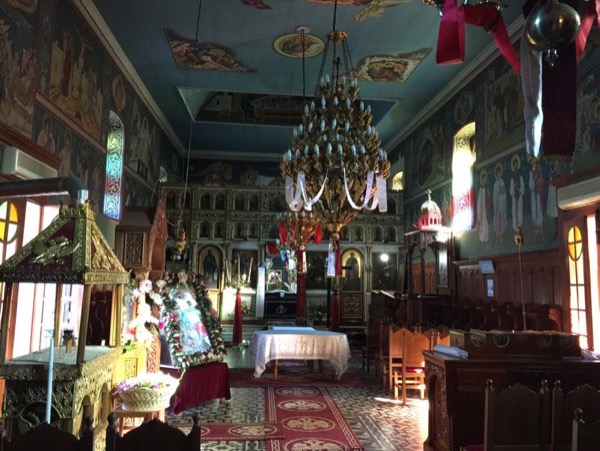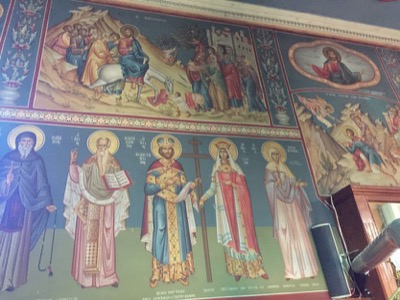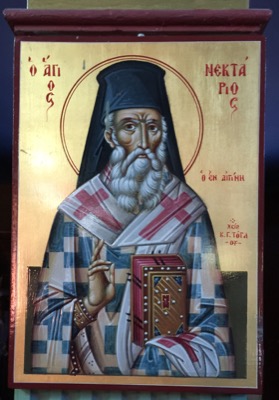 Meanwhile, most boat-related things are now sorted or getting there. We have invested in a new 'third generation' anchor as these are reportedly a great improvement in terms of security of anchorage, but we need to make some changes to the bow roller so that it fits on the boat. Tonight we are in Nidri on the island of Lefkada, where we have just had a visit from 'Stainless Phil' to have a look at what needs doing to the steel work at the bow.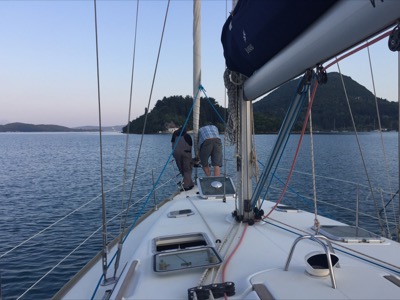 Nidri Marine Stores is the first place to charge reasonable prices for boat-related things. They have an extensive second hand section which perhaps one day will be transported in its entirety to a museum somewhere for its collection of last century marine paraphernalia and classic items from the British empire.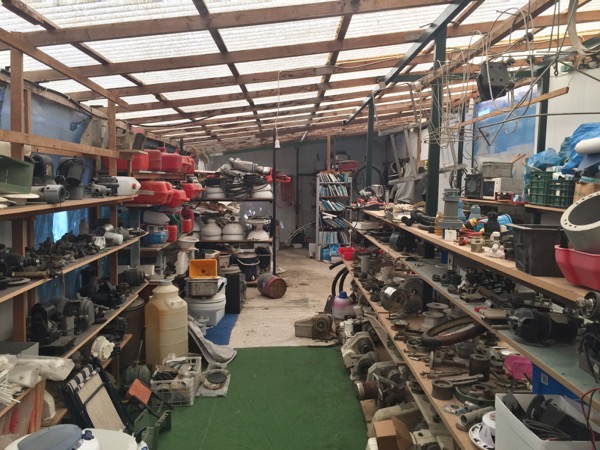 There is a map section and a book shelf where you can swap used books for free. We needed a chart but the map section defeated us in its chaos.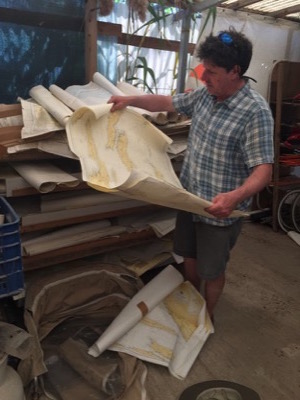 I found a paperback copy of 'The Odyssey' however, with a great front cover.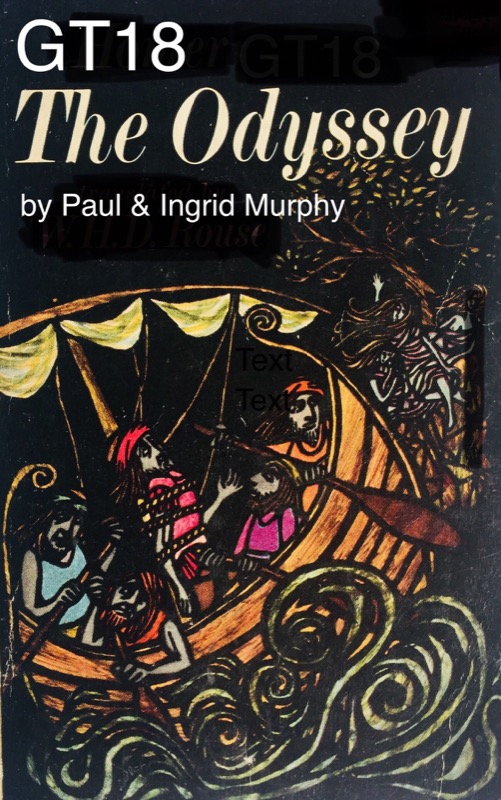 The one street town of Nidri is the first place we have been to which very clearly depends on the tourist trade, having made the transition from olive oil to suntan oil. It is a ferry port with a great number of waterborne 'palaces' that take tourists on tours of the islands. In Vliho, a sheltered bay just south of here, along the long and attractive quay set in spectacular scenery, there is a stretch of yachts in various states of decay and dilapidation, most of them British.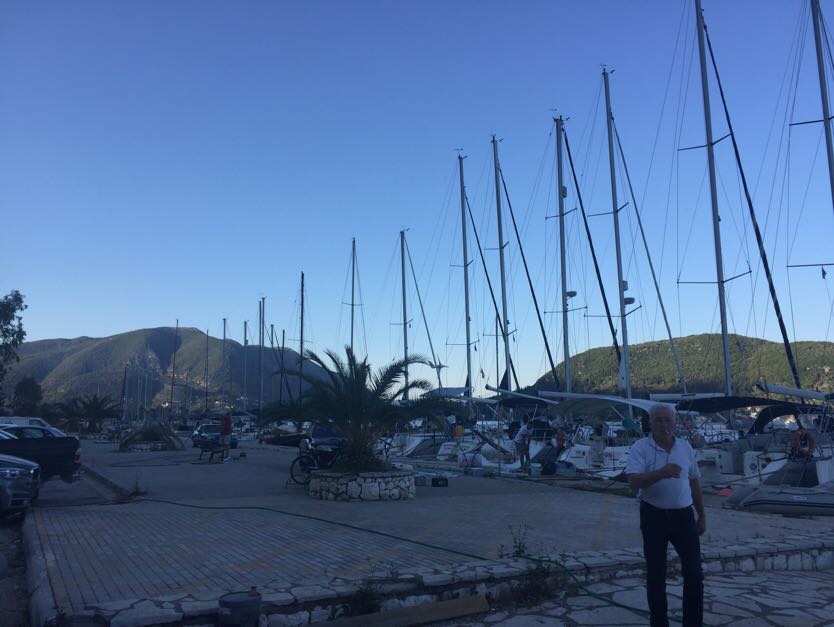 This yachting graveyard seems puzzling. Maybe the owners can't sell them, perhaps they have returned to the UK and abandoned them. Perhaps they actually still live in them..?? Perhaps they were our fellow inebriated diners in Vliho Yacht Club ( not somewhere I would rush back to...). In Lefkas too there was the aptly named 'Dodo' with a big hole in the back and very green teak decks supporting thriving colonies of lichen. Odd that the authorities don't dispose of these sad ghost ships which take up space at the quays. And what a waste of all that fiberglass and teak engineering.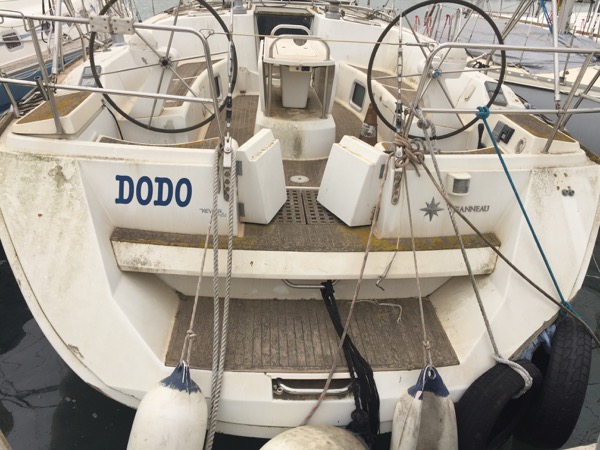 According to the author of the pilot book on Greek waters, Rod Heikell, Nidri and Lefkas have much in common architecturally with a Rio de Janeiro slum. Nonetheless he spends much time in Lefkas. Paul spotted his boat in a yard. The houses here are painted in bright colours, with the upper stories often made of corrugated iron or flat metal sheets painted to look like wood or plaster. A building material apparently favoured because of the frequent earthquakes in the area. You wonder what it's like in the summer heat or the winter cold.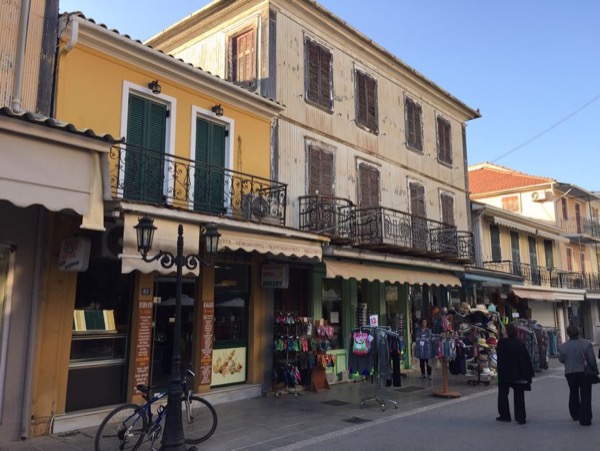 Lefkas has an exotic flavour somehow. Maybe it's the influence of a long standing diversity from the influx of sailors over the centuries. Maybe as well it is the charming mix of ramshackle buildings, but it feels a bit 'outback', a bit frontier, whilst also being a busy small Greek town.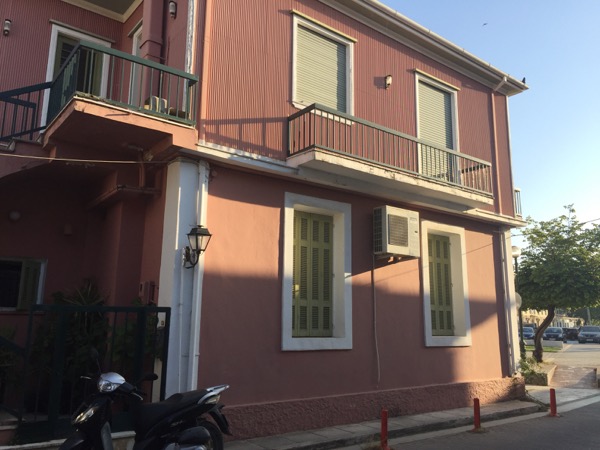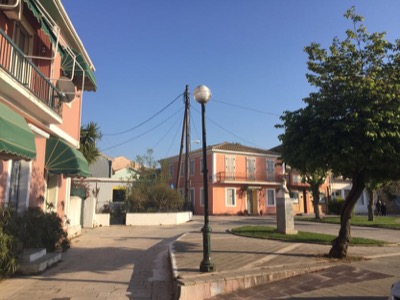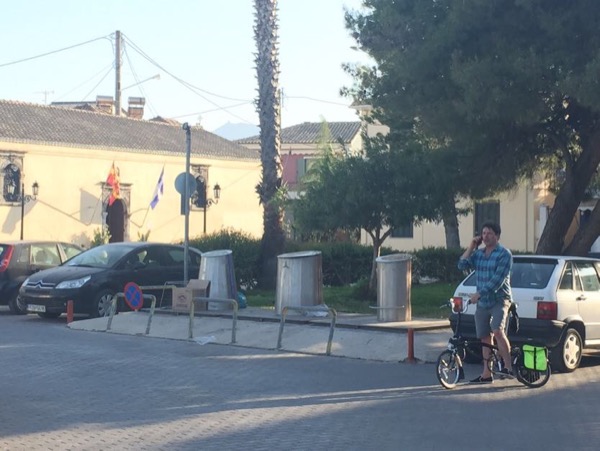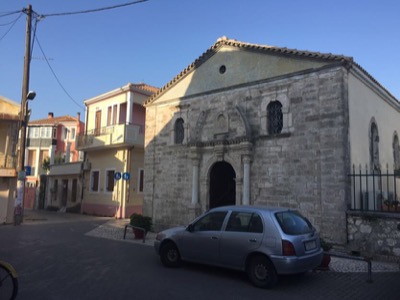 An interesting place. There is a friendly atmosphere, people are helpful. You seem to always get a little something extra in the shops here in Greece. A free cake in the bakery, a small hand towel in the hardware store, a few extra apples in the market. It's an attractive thing, gracious.
Returning to Lefkas we found a spot again on the town quay. Mooring was more challenging this time, it is shallow anyway with old tyres and underwater obstructions and with the water level low we could not get close enough to use the gangplank. After a lot of manouvering we swallowed our male pride and used the dinghy to get on and off the boat.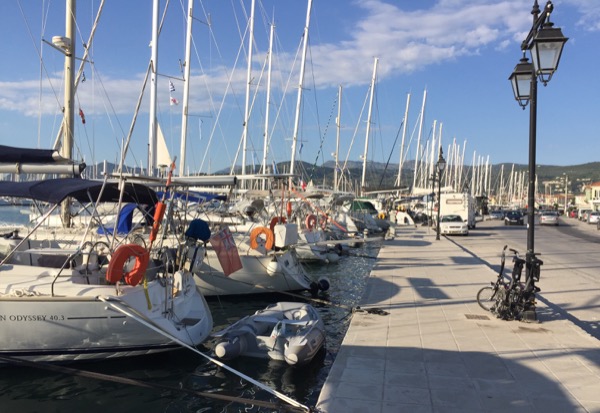 The reason for our return to Lefkas was Rosa Malone's singing workshop. Paul reported a sore throat and spent a hot day on the boat folding himself into the cockpit lockers in order to fix the log (speedometer). Meanwhile I had a grand day with Rosa. In the ground floor of a cafe in the marina with surprised-looking customers and workmen coming and going she had us doing three part harmonies, learning how to project the voice and express different characters, including 'distressed opera singer'. There were 12 of us in the workshop, of whom 2 were men. The social mix of the expat community is fascinating. I learned that some of the (mostly British) live-aboards who spend the whole year on yachts have very little to live on, and some have significant alcohol problems. We have passed the time with quite a few different people now, moored alongside. There are a few families with young children. Mostly though they are couples a few years older than us who have retired, or retired early, and who have lived on the boat some years, pottering about the Ionian and often returning to the UK to stay with family or in their own home in winter. Our recent neighbours even travelled with two large dogs on board.


I wonder about the disconnectedness (pointlessness?) of it, bobbing about in a boat for months / years on end, but here I am doing it and it's growing on me. A more relaxed rhythm has set in, in the increasing heat, and there is always something to do - sorting, cleaning, washing, books to read, the guitar to learn, food to get, meals to cook, a new place to discover, people to talk to, tips to pick up, writing to do, contact with friends and family. Let alone learning how to sail the thing...! In getting from place to place amongst the islands these past days we have in fact also done some sailing, even in some wind and waves. It is beginning to feel more manageable. All the control lines feed back to the cockpit so the only time I have to jump up on deck and doing any heroics with the rigging is when we are head to wind dropping the mainsail, to feed it into its bag on the boom.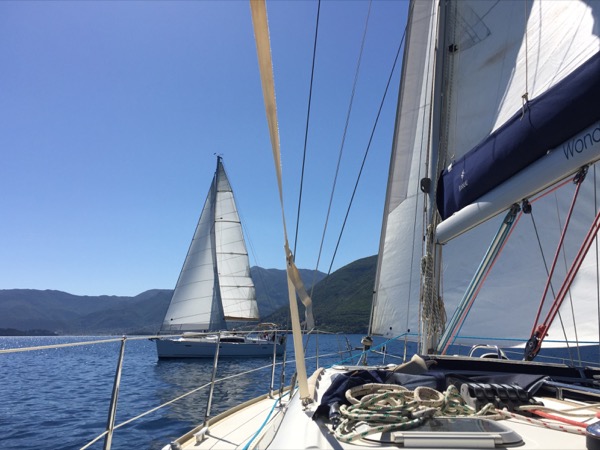 We have been lucky with the weather but this does feel like the perfect time to be here. It is such a beautiful part of the world. Being rocked to sleep by the lapping waves at night has started to feel comforting rather than anxiety provoking (will the anchor hold...?).
On our exit from Lefkas who should we see cycling along the path but our neighbours on the quay Julie and Simon!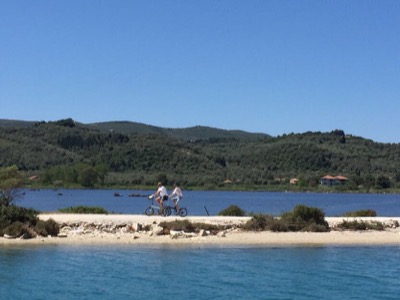 ...who took some photos and a video of us as we voyaged south.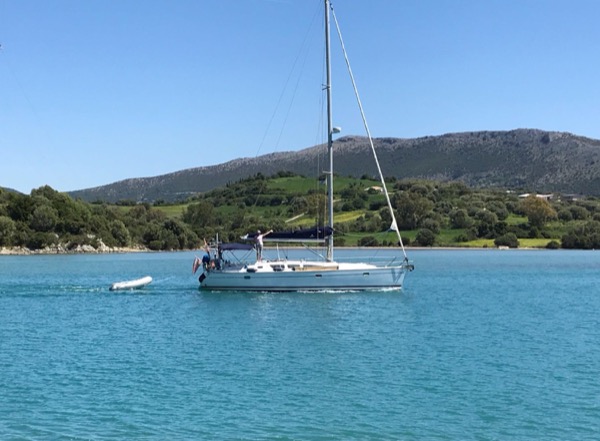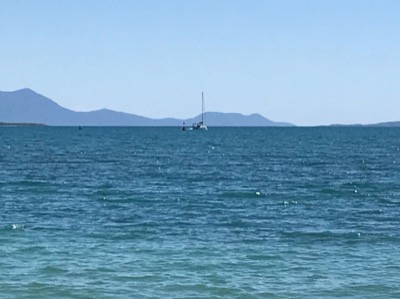 Click HERE for video