Island hopping and jobhunting
30th April - 15th May
Dear Blog, it's been a while. We've been busy sailing and whatnot.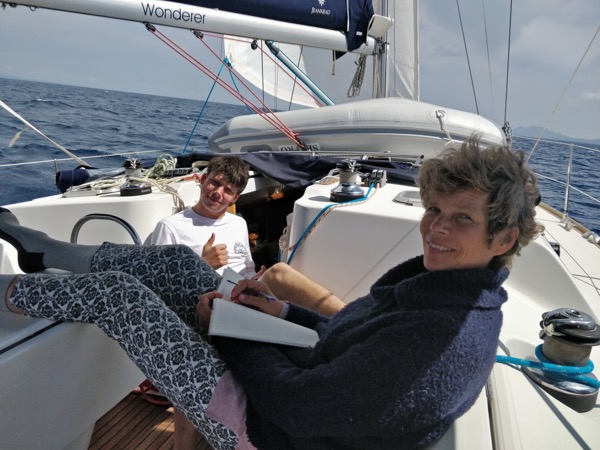 From Fiskardo we went to Sami to collect Reuben who flew in to Kephalonia and was with us for 12 days. Whilst moving around the Ionian we also focused on CVs, job opportunities and graduate training schemes.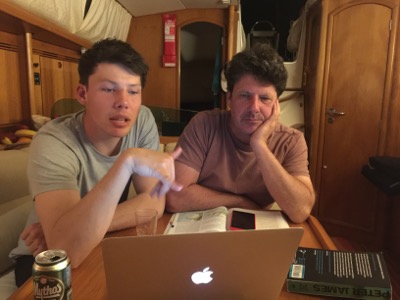 Reuben arrived at 11pm and after a night on the quay in Sami with German charter boats either side we free anchored in a bay called Antisami, where we learned a little about the perils of dropping anchors on rocky bottoms, fortunately without further mishap. A calm evening with backflips off the swimming platform on the stern and pork chops for dinner, using our BBQ for the first time.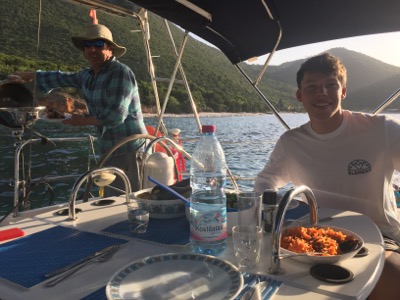 The next morning we set off for Ithaca. The strong winds forecast didn't materialise until we arrived in the large and sheltered bay by Vathi on Ithaca where it was gusting strongly. We found a spot on a little pier but were moved on by the port police after a couple of hours as it was set aside for a cruise ship's landing craft. The following day we decided to sail with the southerly winds and head further northwards again, going back to 'little Vathi' on Meganisi. It proved a windy crossing with 28 knot gusts - not many other boats out sailing. The first proper test of our little outfit in any wind, I was glad to have Reuben on board. All passed off uneventfully, the boat does appear to be well suited to sailing, even in a tipped-up state (!)
The harbour in little Vathi is the perfect shelter from a strong southerly so it was very busy with boats hunkered down for the day and more joining them. We moored side-on to a German charter boat with a very helpful Greek skipper taking our lines. After a hot day on the quay in Vathi we decided we needed a swim and relocated to the nearby Abeliki bay for a swim and a barbeque on board before bed.
In the morning we headed south towards the island of Zakynthos from where Reuben now had a return flight booked. First stop Sivota, a very sheltered harbour with cafes and restaurants lining the quay.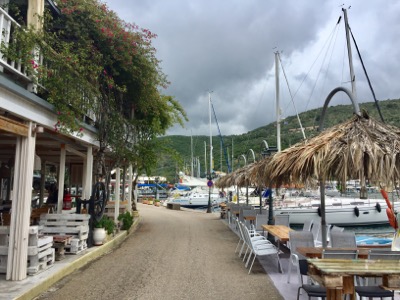 We had a very pleasant cafe right off our gangplank, and apart from us, very pleasantly empty..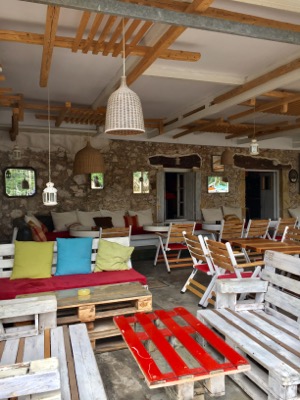 Another delight in Sivota was the bakery. Perhaps due to the flotillas based there it sold not only proper buttery croissants but also heavenly lemon cake and orange cake, and delicious apple pie and coffee. Whilst landlocked in Sivota with thunderstorms forecast, Paul installed the mood lighting (ta-da!!)!! There having been not a drop of rain since arriving 6 weeks ago the gods made up for it when the heavens opened during our second night and emptied themselves into through the cockpit into the saloon, as we had left all the hatches open. We woke to cracks of thunder and lightning a little too close for comfort, later learning that the plugs had exploded in a nearby house. Fortunately the mood lighting was still intact.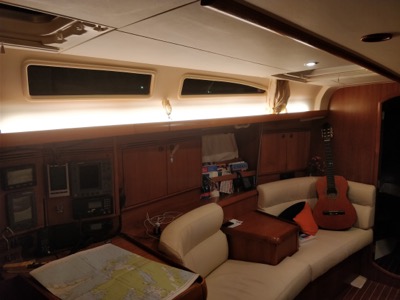 After two nights in Sivota the weather settled and we set off north again for Ithaca, deciding to let the winds determine our direction. Our soaking rugs hanging out to dry on the lifelines as we sailed along.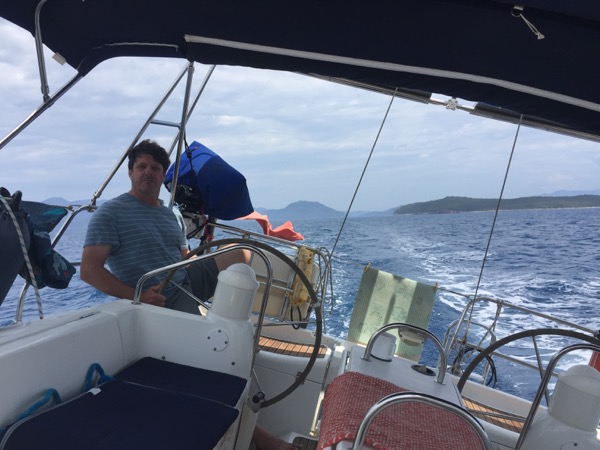 Reuben was unphased in the saloon downstairs.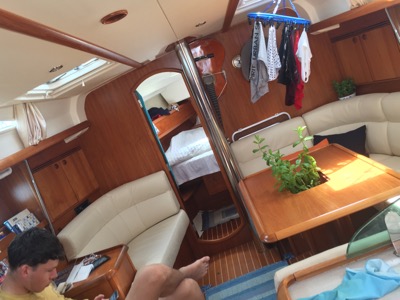 Arriving in Ithaca at the spectacularly scenic little town of Kioni we moored on the town quay.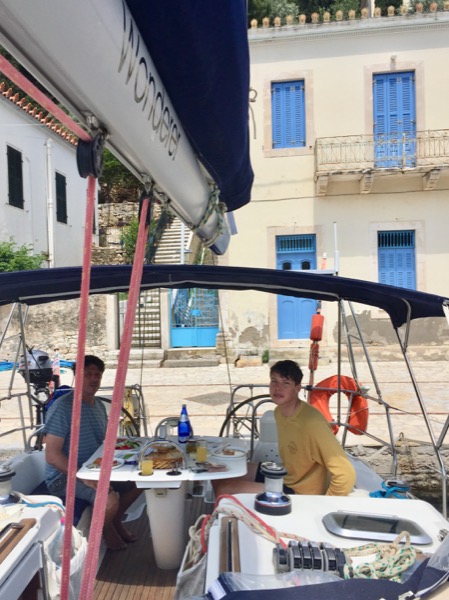 Paul and Reuben went swimming leaving Ingrid to deal with a German charter boat which decided to insert itself into the narrow space between us and the next boat. They made up for their rather stressful entry by bringing out a double bass, drums and other instruments and playing jazz on the quay and in the restaurant later that evening.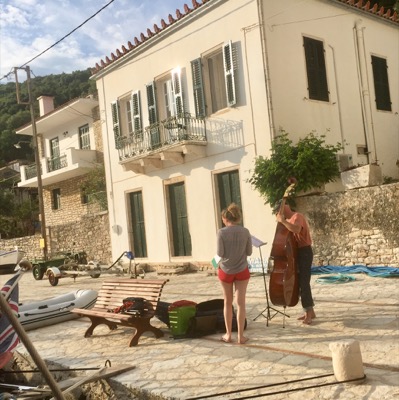 From Kioni we headed for Poros on Kephalonia, an uninspiring ferry port according to the pilot book, but with a spectacular approach by a gorge. We all went swimming on the nearby beach and Reuben and Ingrid did some mooring practice on the quay, whilst Paul's wallet was discovered to have been mislaid. Fortunately we narrowed it down to one of two places he might have left it in Kioni. A couple of phone calls later the wallet was located and the restaurant staff in Kioni promised to keep it safe till our return. Prioritising getting Reuben to his plane on time, we headed away southward for the north of Zante island. Once underway we realised we could either sail to Zakynthos town from where Reuben was flying, or motor to our original destination so opted to head straight for Zakynthos, giving us two nights in Zakynthos. After a farewell restaurant meal Friday evening we waved Reuben goodbye from the quay on Saturday morning.

Project wallet retrieval requiring some backtracking we set off northwards again with the wind behind us, and got as far as Pera Peghadi on Ithaca. We moored alongside the small concrete quay on an uninhabited little island. A sudden increase in wind and chop made the berthing challenging, luckily a Frenchman and a Greek fisherman where there to take our lines, neither of whom spoke English so we had a quiet evening, though the Greek fisherman accepted a glass of red wine off us in thanks.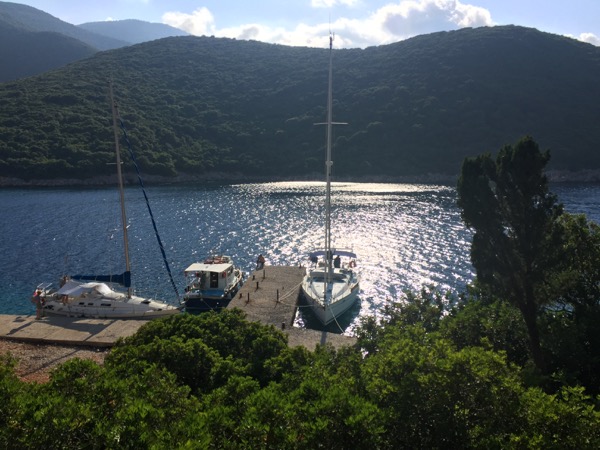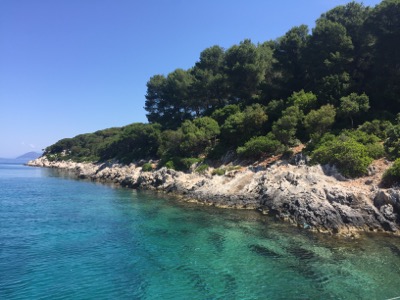 I did a spot of litter encouraged by the signage on the quay. Apparently visitors often leave rubbish here and it attracts bold rats. For someone who used to have a pet rat Paul was pretty keen on keeping them out that night.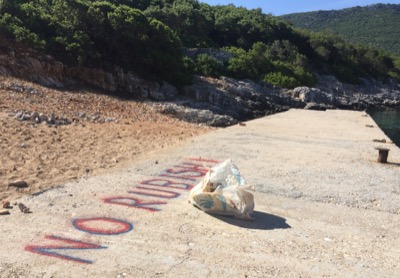 What a gem of a place however, a new favourite in spite of the rats (not seen), the ground wasps (thousands but not hostile), and a number of small blue jelly fish which I made close contact with (v hostile).
From here we had only a short trip up to Kioni where we went stern to on the quay again, encountering the first Norwegian yacht next to us. Oven roast organic goat was had at Mills restaurant that evening from whence the wallet was gratefully retrieved. Paul took a cycle tour of the area and captured Kioni from above.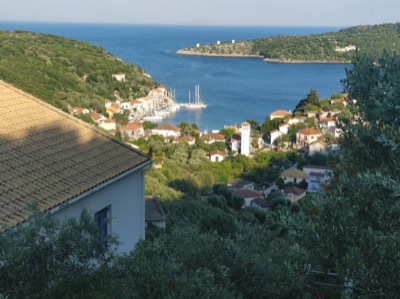 Mission accomplished, we headed south again and anchored on the southern tip of Ithaca with lines ashore in Ay Andreaou with steeply sloping green cliffs on all sides around a white pebble beach. The onshore swell and wind meant there was a lot of rubbish washed up on the beach, much of which was bagged and brought with us to the next quay for disposal.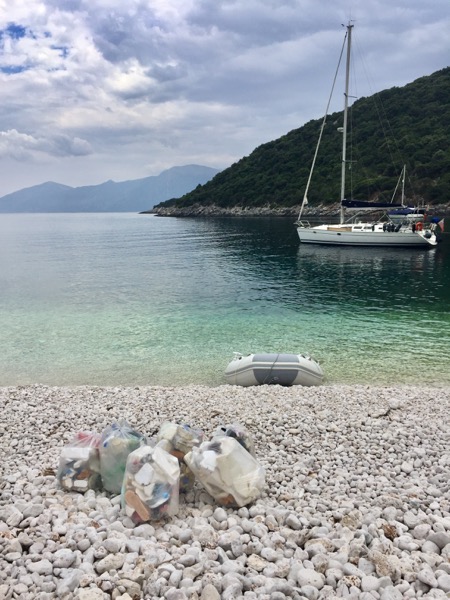 We spent two nights there, encountering three friendly Brits and a free-spirited French woman on boats in the bay. Two abandoned dwellings with olive terraces built into the steep slopes all around the bay. It looked such a beautiful spot to live.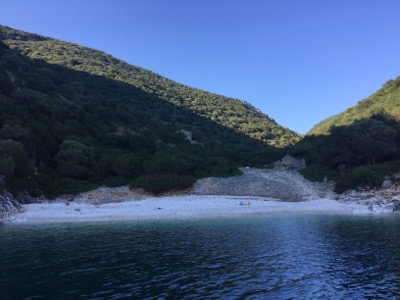 I couldn't work out why it had been abandoned, till I suddenly noticed that all the rocks and rubble in the place had actually fallen from the surrounding hills. Not a safe place to live in earthquake prone Ithaka. Suddenly the place that was so charming took on a more forbidding character, and this sense intensified on our second night. The weather forecasts were conflicting as they often are here. With the bay exposed to the south and some forecasts showing strong southerly winds on the way, we decided to stay but set the alarm for 7. It proved a rather unsettled night with a lot of rocking and also a lot of anxious pondering how I might get the three lines off the rocky stones I had tied them to on the shore, if there was any wind or swell, without puncturing either myself or the dinghy on the spiky rocks... However as dawn spread her rosy fingers across the sky the morning was blissfully calm and the sea state nowhere near as bad as it felt lying in the forepeak. A morning swim ashore to get the lines off and we were away by 7.30, very content with our new anchor.
Leaving Ithaca for the island of Kephalonia, we motored over to the ferry port of Poros in moderate winds but a bit of a cbop, cold and a bit rainy. The woolly hat even made a guest appearance again.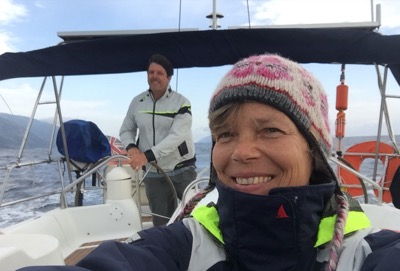 We arrived in Poros when the other yachts on the quay were just having their morning victuals, and breakfasted on board. Paul got a haircut on the bench on the quay and as our mooring fee of 15 Euros gave us unlimited access to water, our bedding and towels got a washing, whilst Paul went exploring on his Brompton. I also had a stint up the mast to check on a few things.