Of ferries, fishing boats and gods
15-26th May
The next leg of our Odyssey primarily comprised time in slightly down at heel ferry ports, interspersed by a foray to Olympia where we got to know the ancient Greek Gods better.
From Poros on Zante we took the few hours crossing, mainly by motor, over to the mainland to the ferry and fishing port of Kyllini, more of an industrial landscape even than Sami, Poros or Zakynthos, all of which were large ferry ports on the island of Zante (Zakynthos). These ferry ports are liminal places, there is a sense of being inbetween, waiting for the next stage of the journey. They give a feel for Greek life in a way the tourist hotspots and the beautiful bays do not. They are the unedited version with their trucks and fishing boats and flies and asphalt, and it is interesting to be a part of that. These places have an appeal, in spite of the plentiful plastic litter and rubbish usually drifting about on sea and on land. Slightly obscurely we ended up spending four nights in Kyllini with large ferries coming and going just the other side of the breakwater.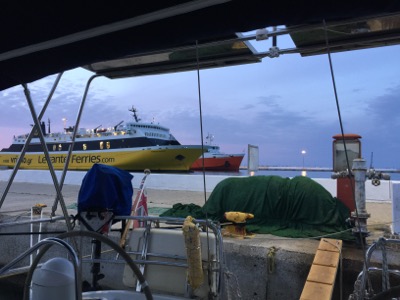 Mooring, water and electricity appeared to be free of charge, and we were met with waves of the hand and shrugs of the shoulder in the customs office on Sunday when we tried to pay before departing. So we got some laundry done, and also managed to sand down the teak on the cockpit seats, aided by the Captain on the neighbouring motor yacht Amethyst who lent us a disc sander, a vacuum cleaner and an extension lead. We ended up being drawn into the worlds of captain Paul from Beirut who waxed lyrical about Lebanon, his little dog Lecki and his Greek crew Andriana. We had a tour of the motor yacht they looked after, were plied with stories and beer and taken out to the village of Arcoudi one evening where we had a drink by the floodlit lapping waves.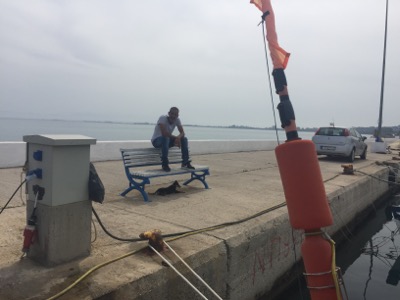 We also had our first anchor incident with the neighbouring Dutch couple of retired liveaboards. Not having dropped enough chain we pulled it up to relay it but managed to catch the chain of their yacht in the process. With some judicious manouvering by Paul we released their chain and moored up stern to. Glad later to be in a good harbour as we had what proved one of our roughest nights yet here.
The spectacular 13th century castle of Chlemoutsi 270 meters above sea level built by the Franks is a hike by bike from Kyllini, but Paul made the journey twice, once whilst I was sanding the decks and once with me. Though I practically expired cycling up there in the heat it was worth it.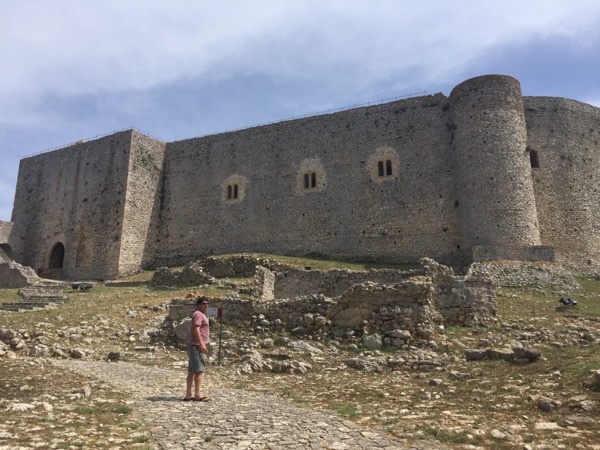 This picture does not do justice to the dimensions - the castle is visible from the sea and land in every direction as a symbol of the power of the occupying Franks. It is in the style of a French castle, reportedly built by hand in only 3 years by 5000 labourers working on it daily.
On our departure from Kyllini we managing to avoid the shallows around the harbour entrance, where only a few days earlier a British yacht ran aground, with one crew having to be airlifted out to hospital with two broken vertebrae and a broken arm.
Next stop Katakolon, the closest port for visiting ancient Olympia. We hired a moped for the day, setting off quickly on the hour's journey when we saw a gigantic cruise ship dropping anchor in the bay, realising they would be heading in the same direction and hoping to beat them to it. To no avail it turned out, but very fortunately so in fact. As we were sitting on a bench by a tree the guide of the groups from the cruise ship stopped by in the shade to address her group. She was hugely informative, interesting and enjoyable, much more so than the densely written and poorly translated information placards dotted about. We followed her for a while and when in the name of decency we thought we should wend our way, she beckoned us back so in the end we had a fabulous tour. These stones came alive with her input.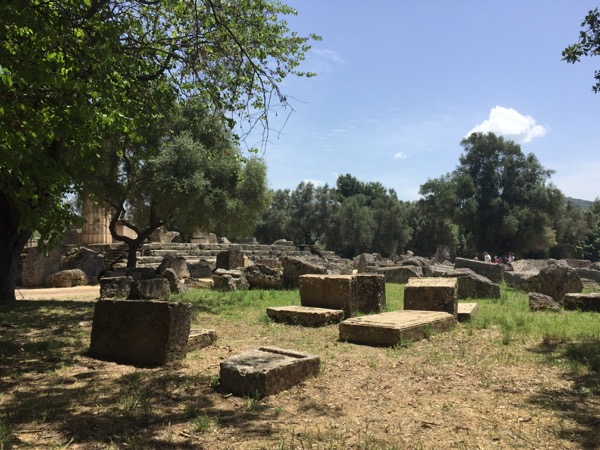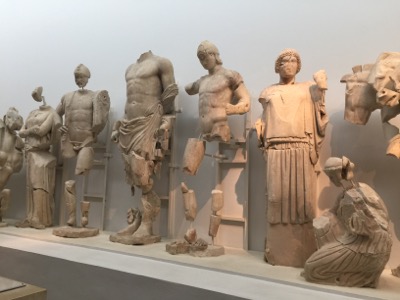 Striking realisations no. 1: The gods were perceived to actually inhabit their temples. Nobody but the temple attendants were allowed in central part of the temple where the great statue of Zeus was, made in gold and ivory, 13 meters high seated. The grander the temple and the better the sacrifice the more likely the gods would be to come.
Striking realisation no.2: It finally dawned on me how the temples with the painted statues would have been more like Madam Tussaud's than anything. The whole place would have been quite gaudy. Below is an example from t'internet of how they would have looked. Odd. A bit eery...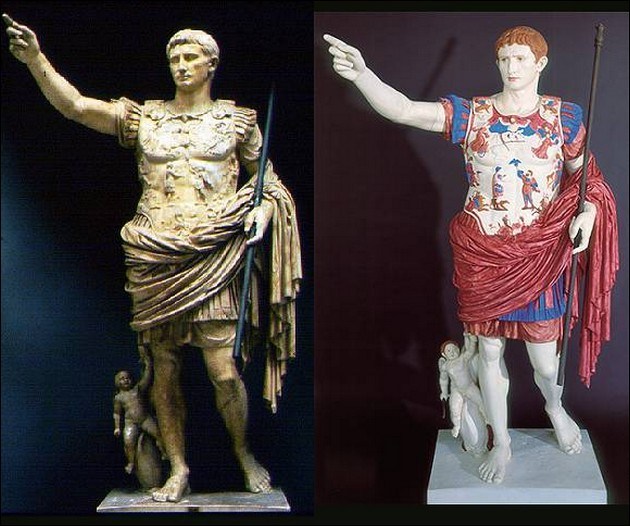 From Katakolon we headed south again to the fishing harbour of Kyparissia where we moored side to between to a Swedish yacht and a rusty fishing boat. The Swede, 75 years old with a double stent put in last year in Italy, lives aboard his modest boat full time with his missus, sailing Greece in the summer and living aboard in Italy in the winter. A former director of Sweden's second largest opera house, forced to leave by an incoming conservative government in the 90's. Interesting. We had a very windy night in Kyparissia and a sweltering, hypnotising southerly wind keeping Ingrid in the shade of the cabin most of the day whilst Paul explored the pleasant old town positioned further up the hill, as they were in order to avoid being plundering by pirates.
Next stop Pylos, sailing south with good winds behind us and a rough sea state testing our sea legs which proved sturdy enough, especially after donning the sea-sickness preventing wrist bands. I even helmed in the swell, gaining a morsel of confidence that this seeming madness we have embarked on might actually be ok.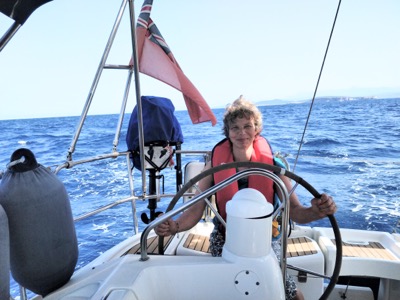 Click here for some sailing footage
The entrance to the bay of Pylos is spectacular, with a line of broken cliffs rising like teeth out of the sea.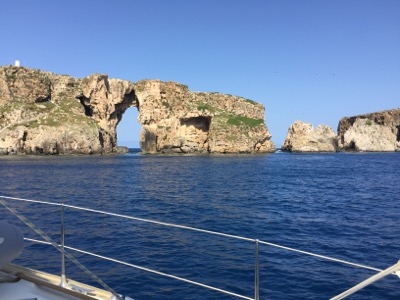 Pylos 'marina' proved crowded, neglected, under no management with no access to water or electricity. Building the marina must have cost a huge amount. Who paid? It's a bit of a mystery to us these derelict marinas that we come across. But good shelter, once we managed to find a space alongside this abandoned yacht behind a rusty fishing vessel.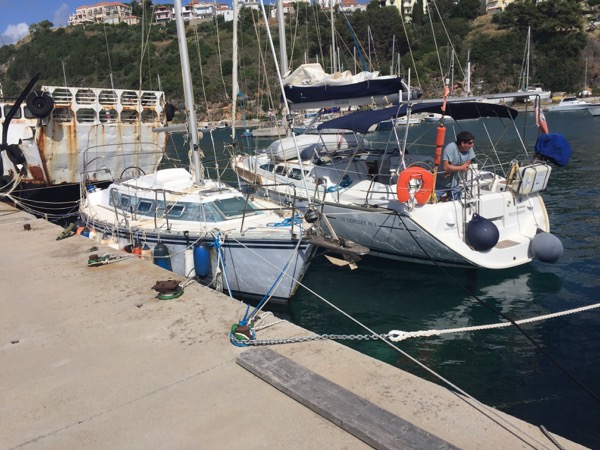 Pylos is an attractive town, we did some shopping and spent a quiet night onboard before pressing on south and east to collect Alex from Kalamata the following day. Next stop Koroni with a rather rocky night anchored in the open bay before heading to Kalamata marina.