Volos & the Centaur's Path
5th - 13th July
Waving farewell to Jean in Skiathos we headed back to Loutraki on Alonnisos for the night.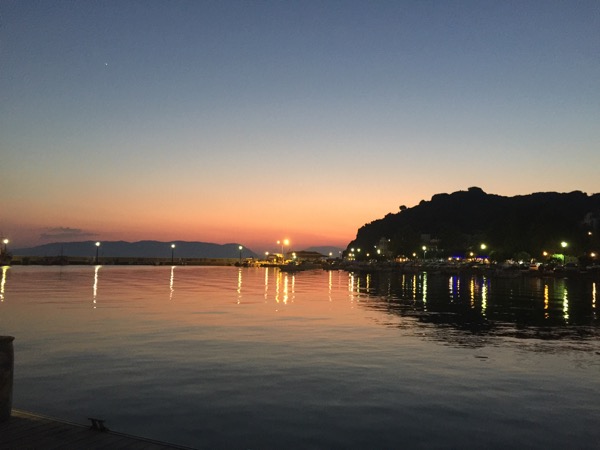 The helpful flotilla crew had said they might be able to climb the mast for us to fix the steaming light (lights the deck) as promised. They suggested however that we head for their HQ in Volos to see Christos at the Sail Aegean charter boat base so we turned back east again. En route we stopped in Ormos Andriamou by the strangely beautiful quarry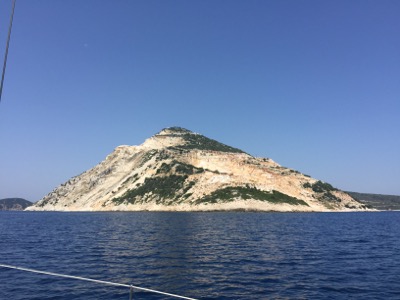 where we took lines ashore in a wooded bay with a few small holiday homes.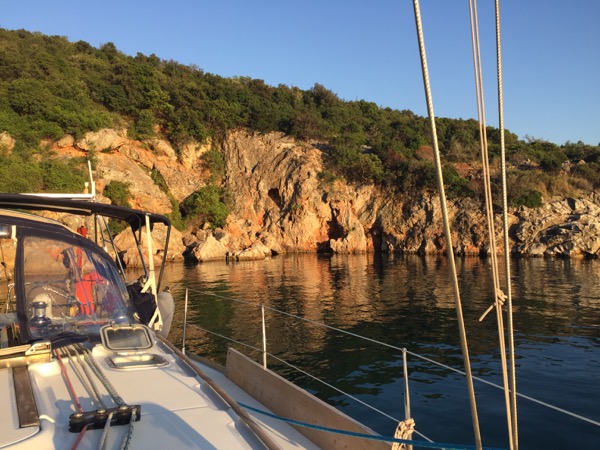 We took our journey slowly, motoring in light winds, and anchored next in Amaliapolis bay by a small village. Paul went ashore whilst I tried to stay cool, July heat having set in now in Greece. Once you stop moving through the air by sail or by motor the heat can be hypnotic, debilitating. On hot days not much gets done until sundown at 9ish. Luckily the previous owners of our boat sewed up some sheets to make sun shades that we tie up around the cockpit for shelter. The water melons help too, they are so sweet and cool and hold a surprising amount of water to make up for the gallons that must be dripping off us.
Arriving at Volos at midday on Saturday we were welcomed by the Sail Aegean staff, helping us back onto their quay. We were hoping for a quick turnaround but in fact we stayed in Volos till Tuesday morning.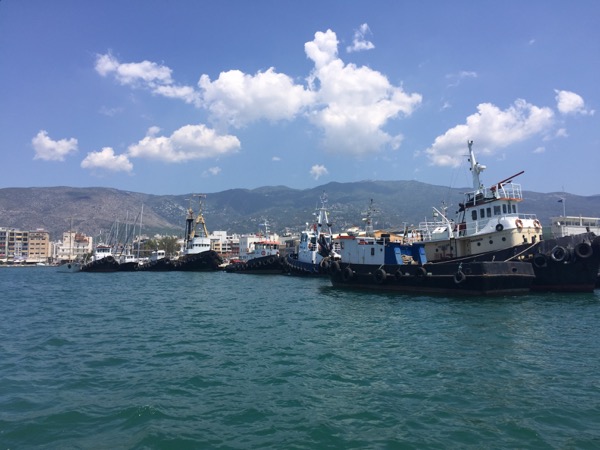 Volos is a city with large industrial harbour but we had an adventurous and memorable time there. Saturday night Paul watched England beat Sweden (!!), before we set off into town to find a place to eat. En route we passed the old railway station and saw these old rusting railway engines lined up as if in an outdoor museum, like a Dismaland version of Thomas the Tank Engine.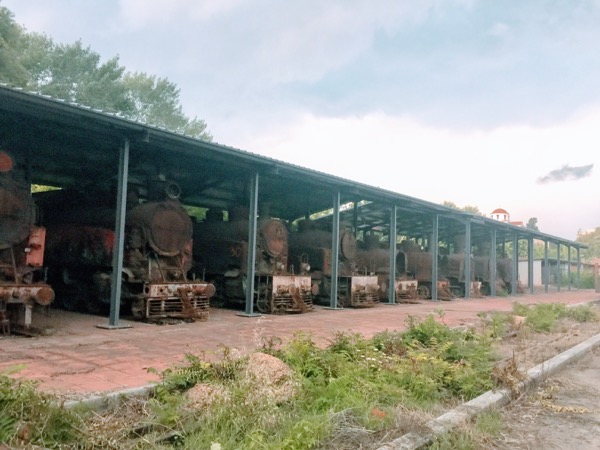 All of a sudden a strong warm wind started blowing, swirling leaves and dust about like a building hurricane. Then the rain came. We ran for shelter and found it under an awning outside a shop. With the lightning came a deafening crack of thunder and the lights went out. The road turned into raging river. Very glad to be ashore and not at sea. Glad too that Paul had the foresight to close the hatches on the boat before we left!
Click HERE to see some weather
After 20 minutes it died down and we emerged from under the awning, waded through the road/river and found a place to eat and dry off a little.
On Sunday we hired a scooter (the helmets are not the trendiest, perhaps the reason why nobody wears any..?)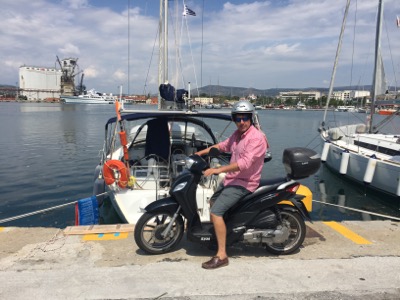 and headed up Mount Pelion, passing this sculpture of a centaur, pointing it turned out up the mountain towards 'the Centaurs' Path', a rocky walk up a meandering river bed in a steep wooded valley. The sculpture, it turns out, was of Chiron, the first centaur. I didn't take a photo of it so here is one I found on my laptop as I am writing this.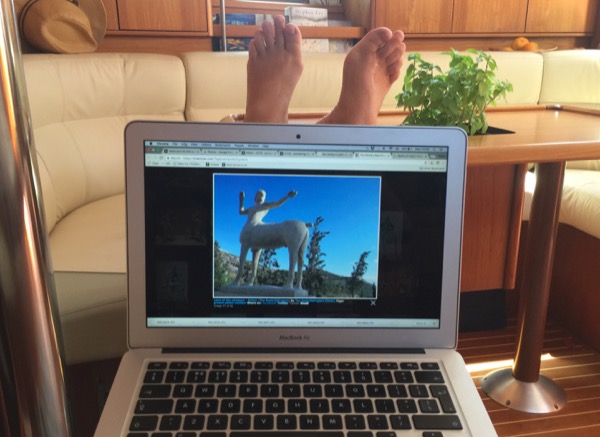 Chiron was 'distinguished for his nobility and perspicacity' it says, the wounded healer himself, who lived in a cave in this mountain and learned how to use the herbs of Mount Pelion to cure animals and humans. Strange to happen across his homestead here on this mountain, having just completed my intense and challenging counselling training at Re-Vision to become a wounded healer. The centaur's path is a life's journey... fortunately for us it is very beautiful indeed.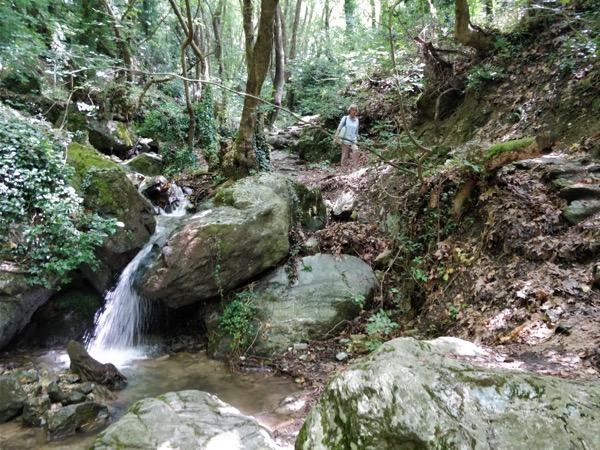 Appropriately at the top of the Centaur's Path we came to a place with a fountain spurting fresh mountain water, no doubt full of good minerals. A man was filling up about 30 plastic containers of all shapes and sizes and piling them into his car. The water tasted pretty good compared to the water in our holding tanks, tapped from the various quays at varying prices. I topped up a plastic bottle I found in the woods and we wound our way back down, having a spot of lunch under the beautiful trees at the cafe on the bottom before getting back on the bike.
As we wound our way up the mountainous slopes of Mount Pelion on two wheels the temperature dropped steadily. At 1400m we passed a ski resort. Surprisingly, yes they do have them in Greece. We stopped for some food in a scenic village, reminiscent of the Alps somehow. Not sure what I might have said to elicit this reaction in Paul though..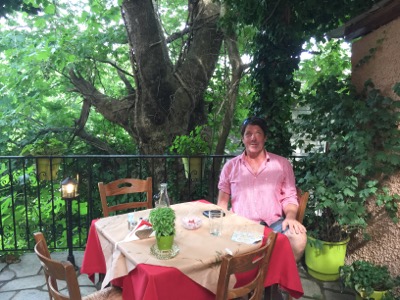 Groups of walkers and school children congregating after their hiking in the mountains.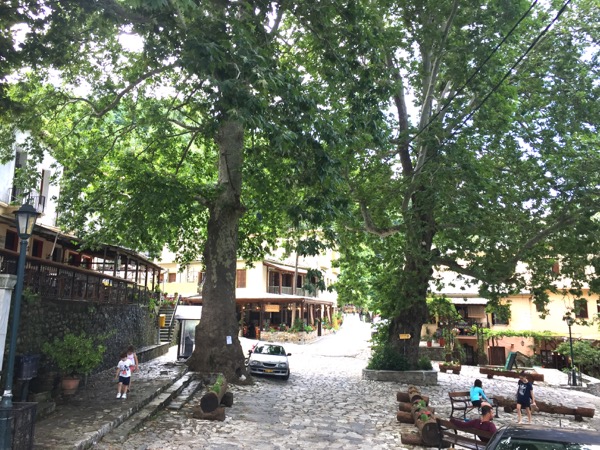 The angle of the hills on which the Greeks build their villages, roads and houses is quite something. It is also quite something to see how quickly the roads erode and wash away. In the battle of nature vs concrete nature has the advantage of gravity here.



We were still high up when rainclouds gathered but fortunately dodged the worst of it, only got slightly wet and stopped for tea at a very pleasant place in a village halfway down until the rain stopped.
On Monday our friends at Sail Aegean proved true to their word and after quite a lot of shouting up and down the mast fixing the wiring they got it working and charged us a very modest fee of 70 Euros.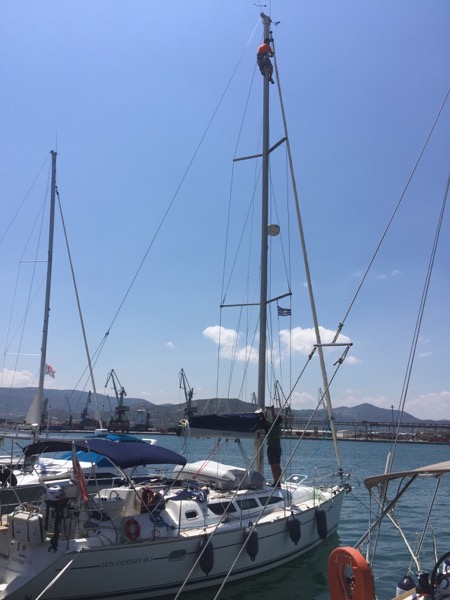 We decided to stay another night and do some provisioning. Whilst Paul was out shopping all hell broke loose. Gale force winds came from nowhere again and the heavens opened. We were moored between charter boats and I was told to start the engine and motor off the quay against our mooring lines to stop us bumping about. Drenched to the bone I kept watch and motored forward in spite of the worry that I might pull the back of the boat off. Meanwhile Paul, it turned out, was keeping dry chatting to the nice woman in the Delicatessen. It was all over bar the mopping up by the time he got back.
With the wiring fixed we left Volos heading south to the Trikeri peninsula where we found a lovely spot in a bay with only a tiny church for a neighbour.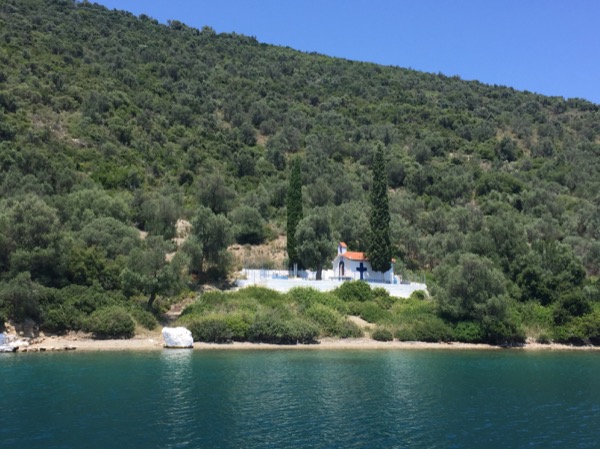 Whilst there however Paul discovered one of our navigation lights was missing from the front of the boat. Not an optional bit of equipment. So we decided to head back to Volos again to source a replacement. The guys at Sail Aegean welcomed us back on their quay again, Paul sourced and fitted the light and we headed off again, unexpectedly taken with industrial Volos.