Planitis Bay and the Akti peninsula
14th -21st July
Chatting with other yachties as we do we had heard others wax lyrical about the monastic Akti peninsula, so after some deliberation we decided to head east and north. Not much wind in the bay of Volos.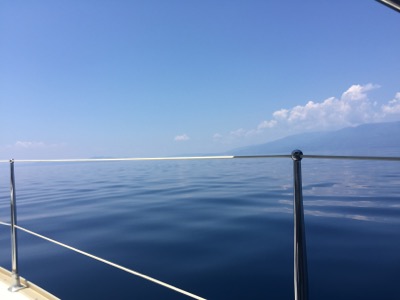 First stop the southeastern tip of the Bay of Volos in a quiet spot surrounded by little Greek holiday homes. At first drop the anchor dragged, a first for our fancy 'third generation' anchor whuch is neant to bite into anything. When I brought it up it looked like two enormous white antlers rose from the deep, the branches of a ghostly tree perhaps, or an enormous sea creature shy of the light. Fortunately the monster dropped into the deep again and the anchor bit at the second drop. Next morning we snagged the monster again however, this time bringing it into the day: a huge submerged tree that had wrapped our chain impossibly around its limbs. While Paul was planning how to drag it in to shallower waters so we could dive down to free ourselves we let anchor and tree sink into the deep again. By some miracle next time the anchor came up monster-free. Just by bringing the monsters lurking in our shadowy depths to light we detach ourselves somehow it seems...
Another night in Andriamou by the quarry with lines ashore. Spot the three little birds on one of our lines?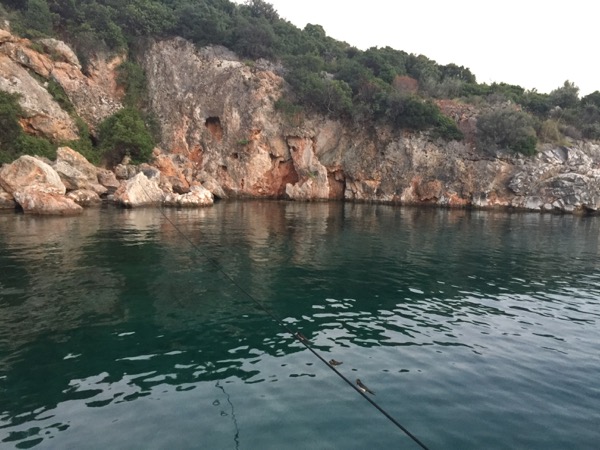 Next Patatiri on Alonnisos, a pleasant place very much geared to receiving tourists but with local life too. We walked to the little petrol station in town where the kind woman managed to understand us sufficiently that her husband beckoned Paul into his little truck and drove him down to fill us up with diesel on the quay, with me trotting after. Debilitatingly hot though on the southfacing concrete quay with rockface also soaking up the sun. Topless showering on the Greek yacht next to us noted by Paul.
We headed for Planitis bay on the island of Panagea next and had a quiet night under the stars at this beautiful enclosed bay that has a special kind of stark beauty. Planitis from the Greek for planet, which also means wonderer. It made me smile to learn this..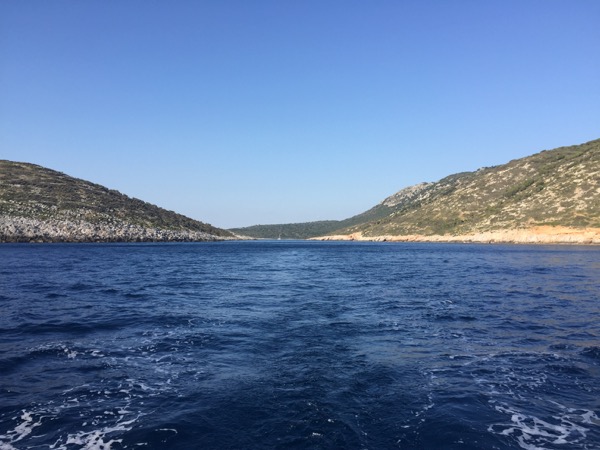 24 years ago we escaped there with Jon and Nic on a flotilla yacht, and spent an afternoon wakeboarding on the bilgeboards. A memorable place, beautiful and deserted but for a few goats, some fishermen and yachts at anchor. We spent the evening swimming and playing the guitar. Gradually people started singing on boats all around us in the dark night too. (Perhaps they were trying to drown us out...?) The island of Panagyia is now a wildlife sanctuary as in spite of its marvellous natural harbour it has no settlements other than a monastery in which lives a single monk who hoists the flag every morning. On our way here we passed a little motor boat with a black clad bearded man in, he waved. I presumed he must be the monk.
Clergy are a regular feature in Greece. They seem to wear their black robes all the time, and with their beards and cylindrical hats they are quite distinctive. You come across them primarily in and around churches and hardware stores.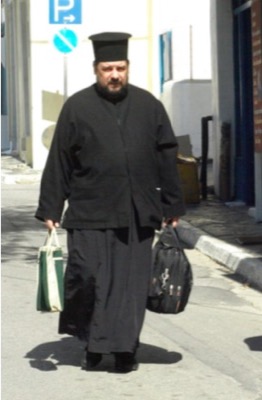 (I can't bring myself to take pictures of people here, stole this one off some other sailor's blog.)
At the appointed time of departure 8am I made some tea, raised the anchor, turned on the instruments, started the engine and motored us out of Planitis Bay all by my very own self whilst Paul had his tea in bed. Good to know it can be done. The winds proved more favourable than forecast so we left land behind and sailed into the horizon, keeping the sails up most of the way across. Destiation Sykia, a large bay at the southern tip of Sinthonia on the Halkidiki peninsula. Rows of deckchairs and parasols on every beach, a contrast from the remoteness of Planitis Bay. Next morning we crossed to see the monasteries on the west side of Akti peninsula.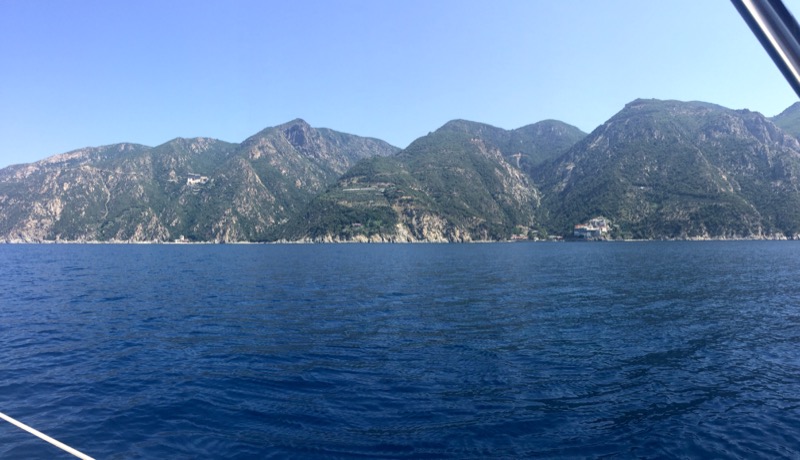 With a female on board boats are supposed to keep a nautical mile (1.8 km) clear of the shore. Men are allowed within 500 meters. We decided I could be male for the day but we stayed outside the 500 meter zone - unlike some other pirate-themed day tripper boats.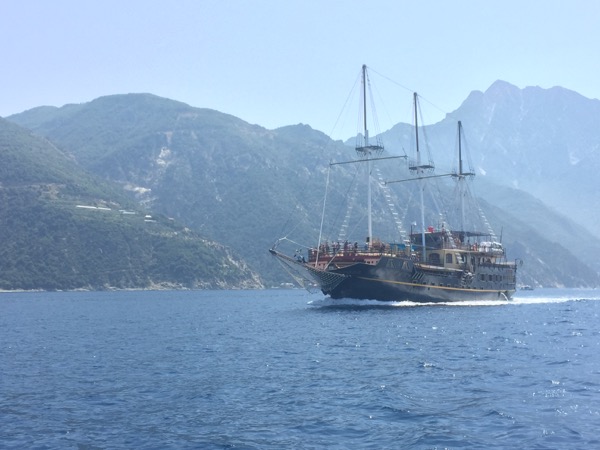 The monasteries are spectacular. They dot the mountainous hillside along the peninsula, some on the shore, others perched on rocky outcrops halfway up the mountain.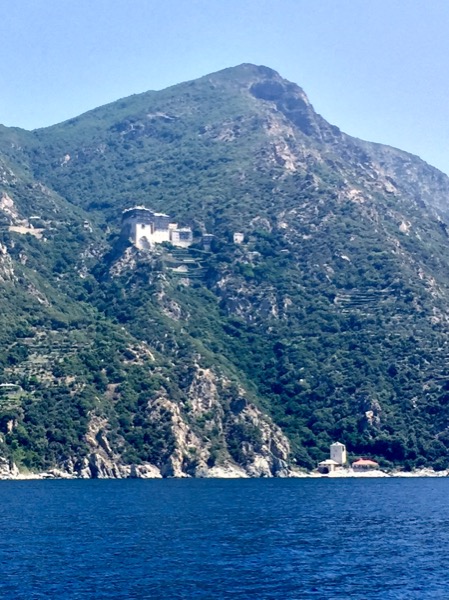 There have been Orthodox monasteries here since at least 1000 AD, but most of the current buildings are from the 1700-1800s. They are huge, with capacity to house thousands of monks. The population was in steep decline and becoming very elderly but reportedly there has been an upturn in recent years with a number of young well educated monks coming from Russia, Serbia, Bulgaria and other Orthodox countries as well as Greece. The monks live off the land, eat primarily vegetarian food that they cultivate themselves. Not only are women not allowed on the island, female animals are forbidden also, so they have to procure meat from elsewhere. The goat population of Planitis Bay for instance was established to feed the monks on Akti.
Pilgrims visit and walk from place to place, though reportedly there are wild bears and boar in the forest and it is challenging walking with few roads - though perhaps this is changing as we saw quite a few roads. Here are some pics of the monasteries I found on t'internet taken by a young pilgrim.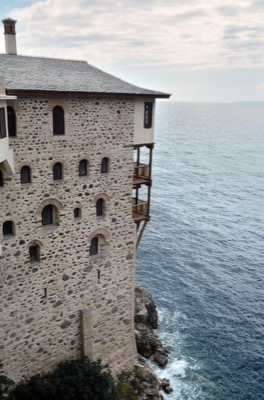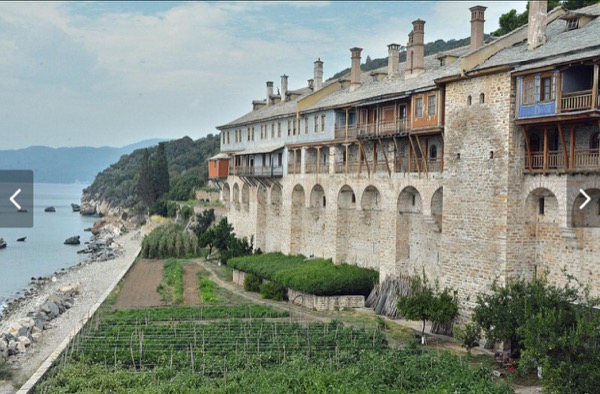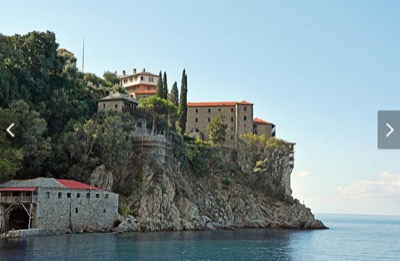 We were fortunate to be able to sail northwards along the west coast in a gentle following wind, perfect conditions for seeing this UNESCO World Heritage Site.
Anchoring on the island Ammouliani (pumping music on the organised beach..) we crossed back over to the middle finger again next morning and stopped for lunch, water and provisions in the pleasant small village of Panagias. Free water on the quay - fortunate as self or significant other had left the tap on and we were empty in both tanks. Travelling briefly south to the island of Diaporos, busy with holiday makers during the day, but peaceful in the night.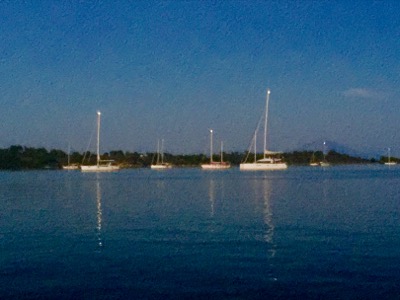 We stayed at anchor another night, sadly after losing our paddle board either to the wind and a distracted knot, or to some chancers passing by. Then a short hop back to Sykia again where we swam ashore with the rubbish in a dry bag hoping to locate a post office (oh vain hope), but did some shopping instead. Here's Paul returning with some cucumbers, milk, nectarines and bread.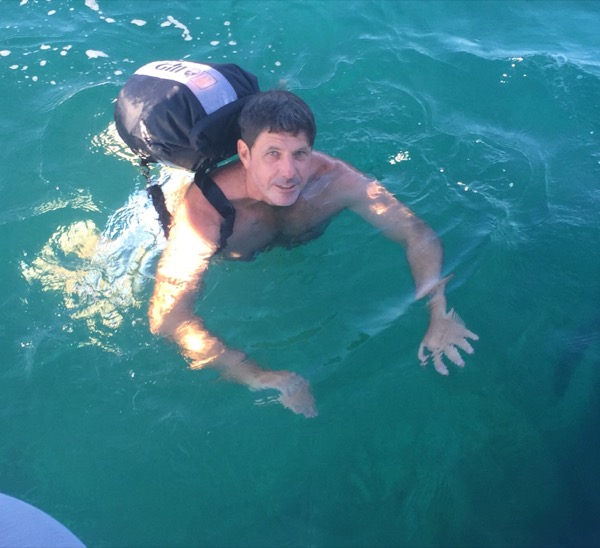 But where are the strong northerlies that were supposed to carry us south? We were hoping for a good sail back to the Sporades. A light breeze did arrive though and we breakfasted under sail.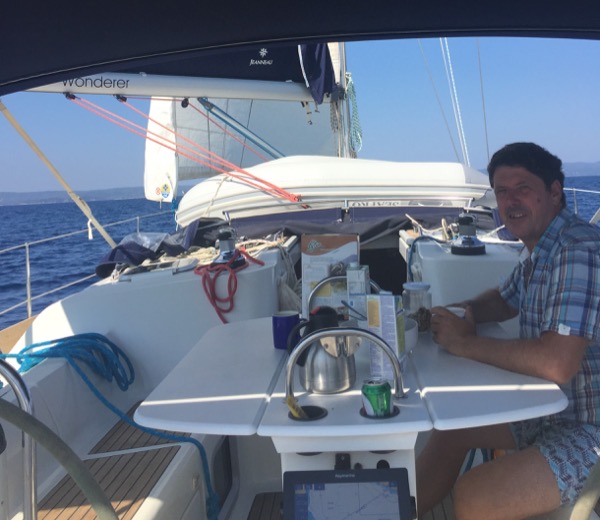 we had to motor the rest. Time for some washing.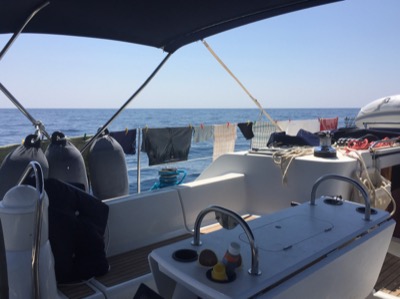 Dolphins visited several times on our sojourn north in the Aegean, some of them bow riding. Such a joy, the dolphins. We also brought a little moth with us across the seas. It landed on my arm and stayed there for a while. Its markings designed to frighten away predators. I see a snake about to strike, with open fangs. So the fluttery little moth can stay safe. Necessary sometimes in life, to hide and dissemble and be a bit scary.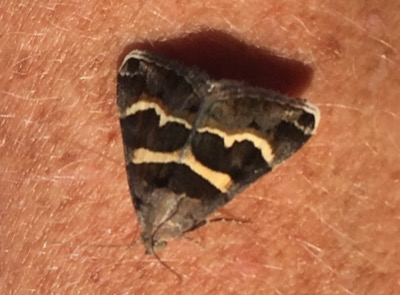 Another night at anchor in Planitis on a glassy calm night on the eve of my birthday. Hard to tell the anchor lights from the stars...

What better place to wake up in on my birthday. I love that place. We had a leisurely morning swimming, breakfasting, a few gifts from near and far and chats with family, feeling grateful. I decided to redesign my Volvo cap for the occasion. If the cap fits wear it, as they say ... :-)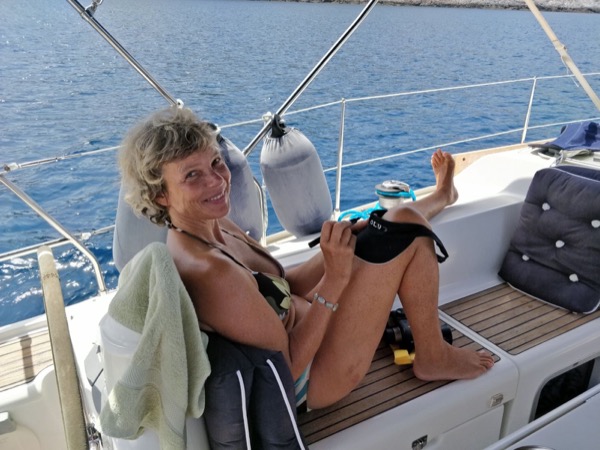 A short journey to Patatiri, passing this yacht at the mouth of a cave. Tempting but no.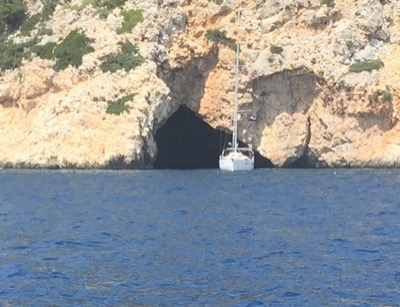 Reub and Jo were arriving with the ferry at 10.30pm so we had some hours in Patatiri and went swimming off the rocks round the side of the harbour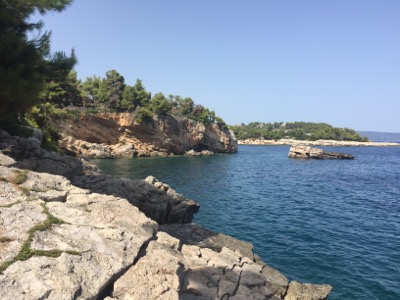 before heading up to the Chora (old town) of Alonissos on a motorbike. Salvaged from the ruins and very charming, built on such dramatic sites as they are, these old settlements.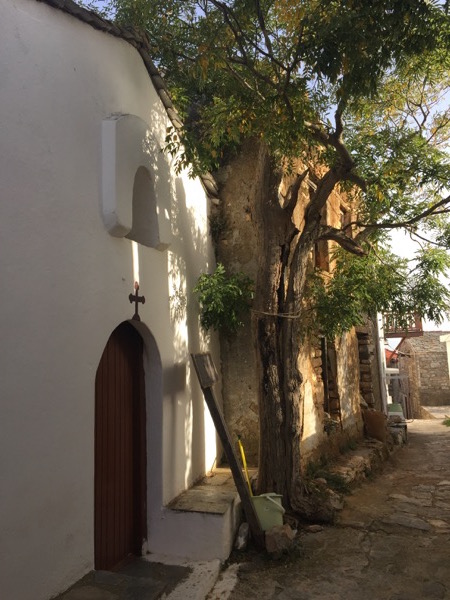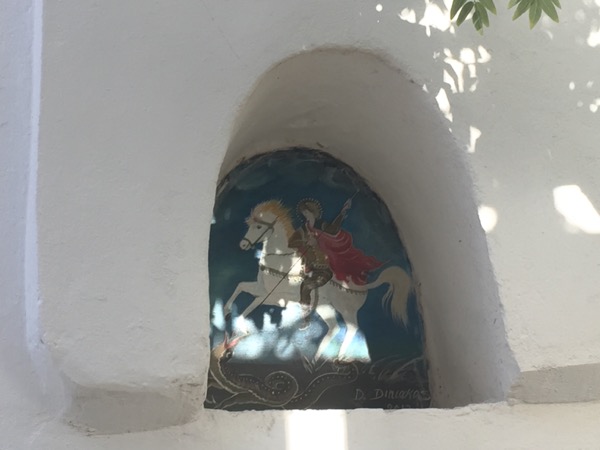 Plenty of ruins still not salvaged though. Tiny houses, with doors and windows to peek through..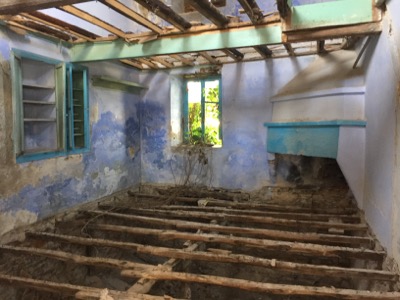 Attractive outside spaces in Alonnisos.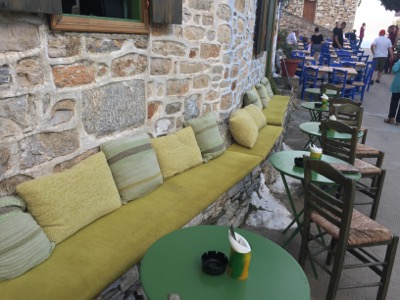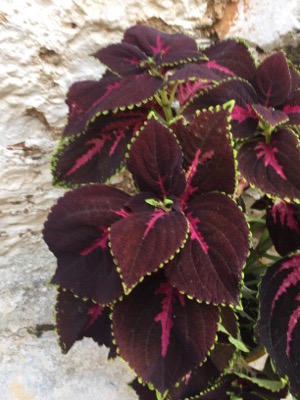 We had celebratory cocktails and a taverna meal with spectacular views. In a taverna where who should sit down next to us but a Norwegian family celebrating the dad's birthday. On 22nd July, the 9/11 of the Norwegian calendar. I thought my birthday would never be the same again, but with time it is just a date and my birthday is an opportunity to appreciate and savour all the gifts of life. This beautiful little church, a jewel in the midst of the tourist shops and cafes, 'the Church of the Birth of Christ'. I lit a candle for my ancestors through whom I birthed, in whose hearts is my berth. As my children have a berth in my heart, forever.