With Reuben, Jo and Manuel in the Northern Sporades
22nd -28th July
Reuben and Jo arrived with the ferry at 10.30pm as scheduled and braved the gangplank for their first night aboard, bringing gifts and books and good cheer aplenty, as is their wont. After a sweltering night with intermittent sleep for Paul in the heat, he handed over the reins to Commander Woodbridge, whilst I delegated anchoring and fender maiden duties to Jo so the two of them could practice managing the boat by themselves. Competent crew Jo carried out the recommended daily WOBBLE check on the engine (water, oil, belts, bilges, leaks, exhaust) and Paul did a safety briefing for us all. All surprisingly instructive.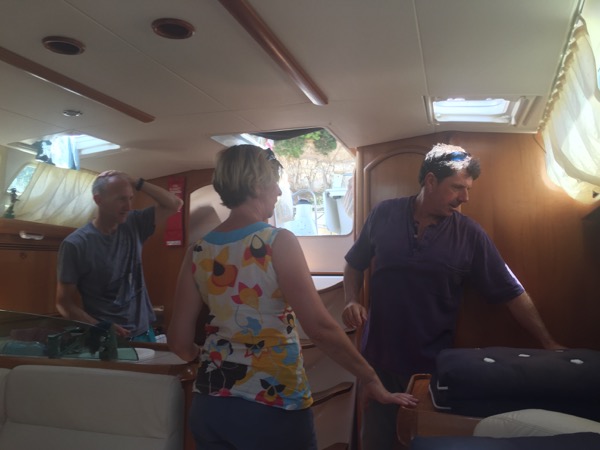 After a morning trip to the supermarket we were all set to leave, when Paul discovered none of our navigation equipment was working. Never afraid to 'get stuck in', Reuben volunteered to check the wiring in the locker.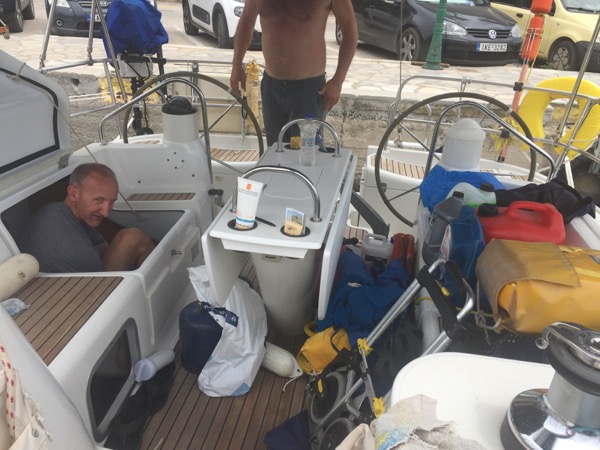 A sweltering hour or two later Paul had diagnosed the problem and got it working (hero!) and we set off. It later turned out as per my niggling suspicion that it was probably me cramming stuff into the rear storage locker that knocked a wire out.
With an uncertain weather forecast good shelter was required and bays do not get more enclosed than Planitis, so we sailed off north east again in good wind with a safe pair of hands at the helm.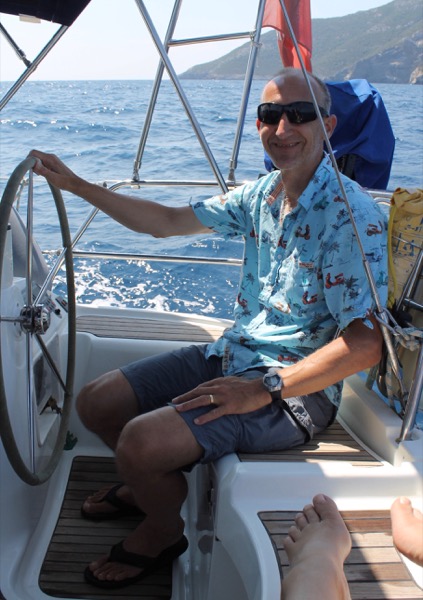 A fair few yachts had sought shelter there but there was enough room to swing a yacht at 50-60 meters of chain. We had dinner onboard and played a game, while the squalls built. After a 180 degree wind shift from the forecast direction several boats relayed their anchors, us included. Just as we had gone to bed at midnight all hell broke loose. Cracks of thunder, flashes of lightning, extreme gusts. Paul, Reuben and I got on deck and strapped the bimini back to reduce windage and were instantly soaked to the skin. The worst seemingly over we gradually dried off and got back under the covers, though it took a while to get to sleep in the storm. We woke to a quiet morning however. Up early, I watched three goat herders come riding down side saddle on their mules, like some biblical scene. From the other side of the bay we watched them round up some of the goats, strap four of them into the sacks hanging either side of two mules and ride off with them. Distressed bleating echoed around the bay, including that of a young kid presumably about to become orphaned. Those monks must be having goat tonight. The harsh realities.
After morning swims and breakfast we headed for Skopelos town on the north of the island of Skopelos. The wind built and we sailed all the way in big churned up seas. Good sailing!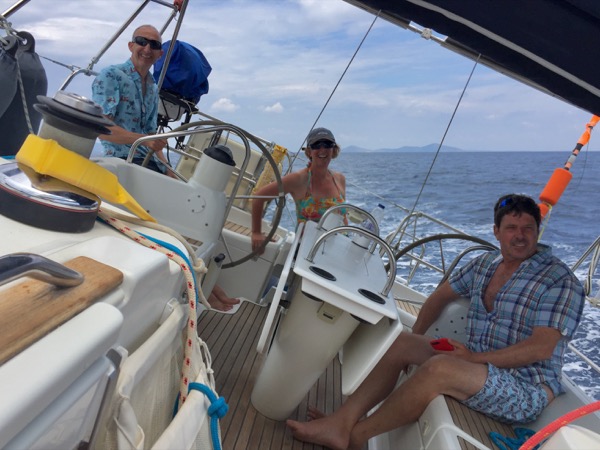 In picturesque Skopelos we found a spot on the quay.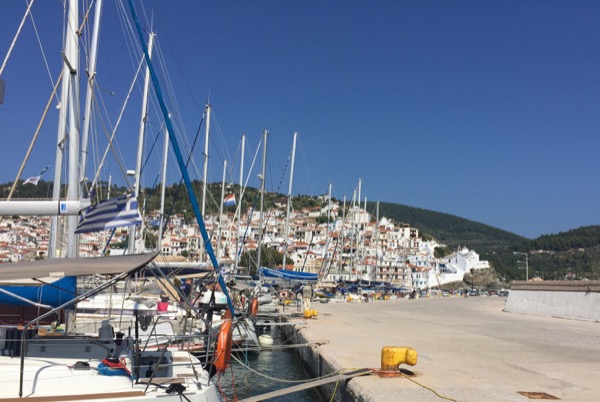 and free water ...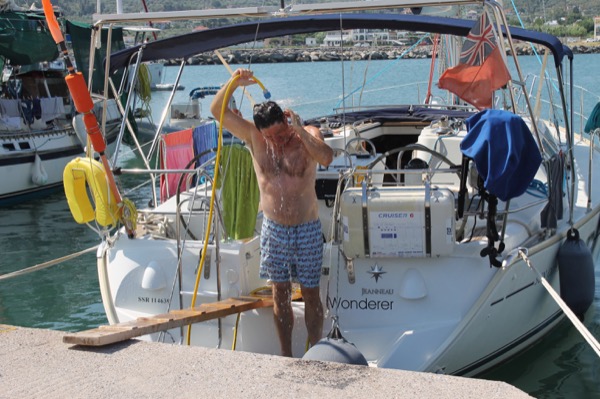 Skopelos has multitudes of small churches. Many of the churches were open that evening for the 3 day period of mourning for the victims of the fire near Athens. The sobering and shocking news of the fires had just reached us. What to say about that.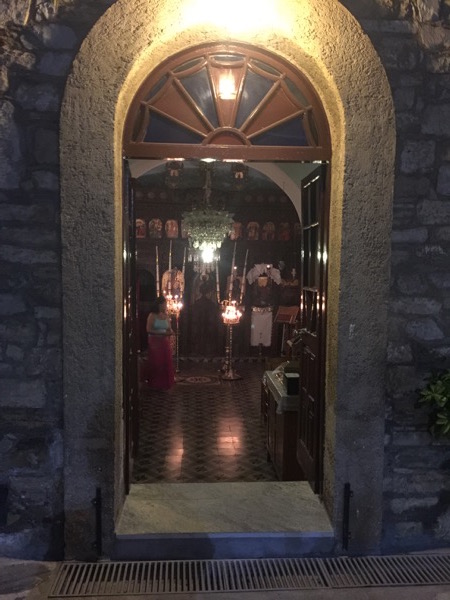 The bizarre thing is that other than the churches being open, life went on where we were as if nothing had happened. Surreal. Skopelos however is so beautiful it raises the spirits. Felt like a place where people live and work and not just a tourist destination.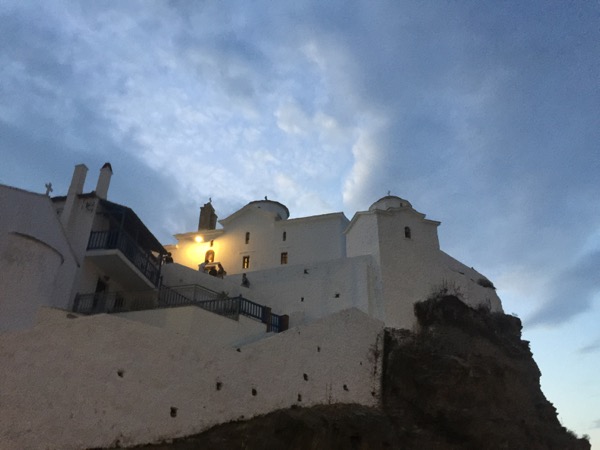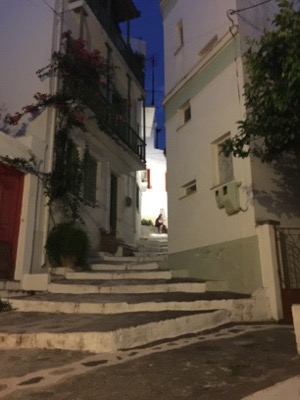 We found a bar selling beers from Greek micro breweries, a good spot to while away some of the evening.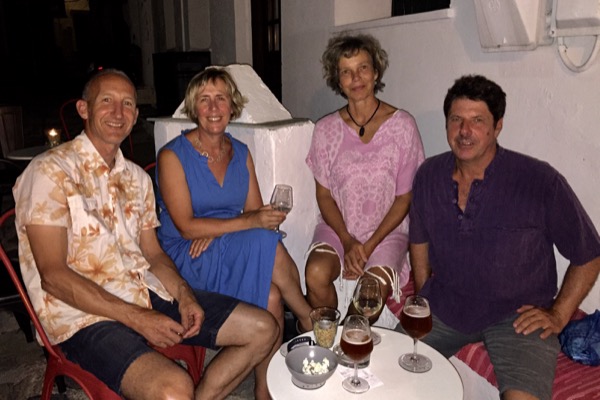 With another day of good winds we sailed on to a bay on the island of Peristeri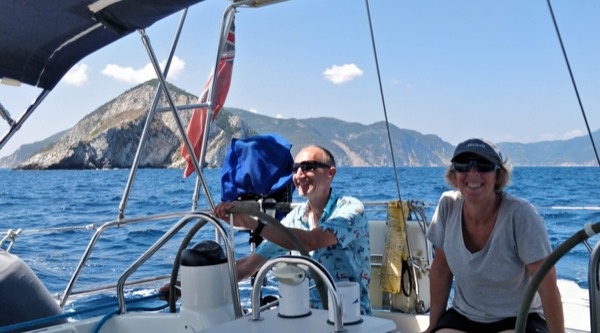 where we encountered a retired royal marine doing Tai Chi under the trees on the beach whilst airing his two adopted stray dogs. Jo did some sketching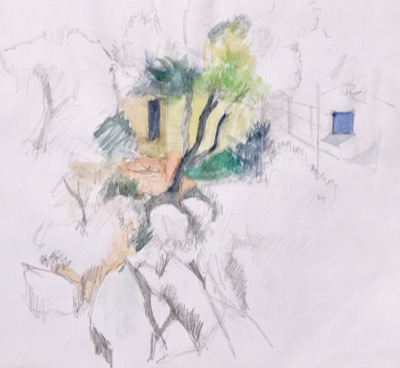 The people on the other neighbouring yacht then invited us over for drinks before dinner. Very international: a Greek-British family living in Brussels and a Spanish-Italian family resident in France. Oxford PhDs in nuclear fission. We paddled back drunkenly and disordered.
Next morning we hoped to cross to Skyros, wind permitting. Wind initially looked promising so we set off southwards, but slowly it died off. To the dismay of our erstwhile crew keen to undertake the longer sea voyage, we headed for Tzortzi Bay on Alonnisos, a lovely spot with good shelter where we had been before with Jean.
En route we took advantage of Jo's photography skills and high spec camera and set her and Reuben loose in the dinghy to take some action shots.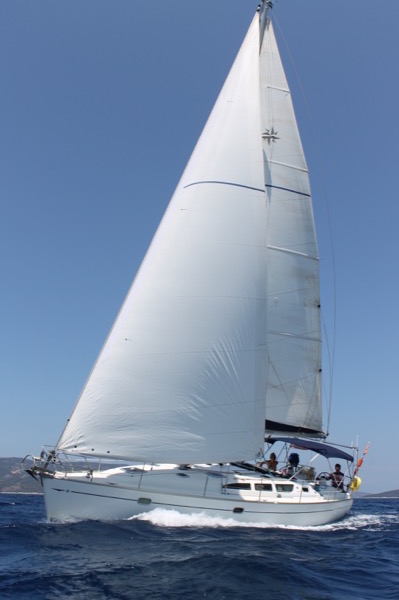 We nearly ran them over in the process though. Fortunately not quite.
In Tzortzi we discovered a large praying mantis making strange rocking movements on our danbuoy. We took him under our wing, determining his gender as male based on size (females are bigger still) and his odd movements (reportedly attractive to female mantises). Manuel the Mantis eats wasps it turned out after Paul managed to feed him some.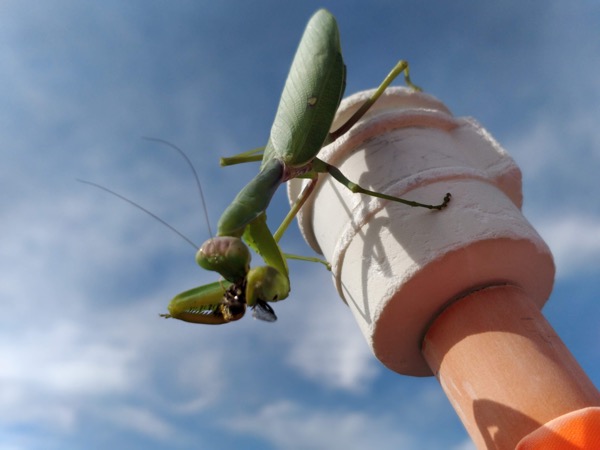 It is quite a bizarre thing watching a praying mantis munch its way through a large wasp. I don't know where he puts it. There's nothing of him other than cartilege and length. He had two wasps a day for the next two days. One he even caught himself. We did assist by smearing honey on the danbuoy though.
The taverna on the beach was an atmospheric place with the water lapping and the full moon rising over our calamari and Greek salad, lanterns in the trees. Next day we decided to stay put for another night. Jo and Reub swam ashore for a coffee in the taverna and taking some towels with them in the dry-bag, and bringing a nutty honey pie back. Yummy it was, the salty dampness added a certain something.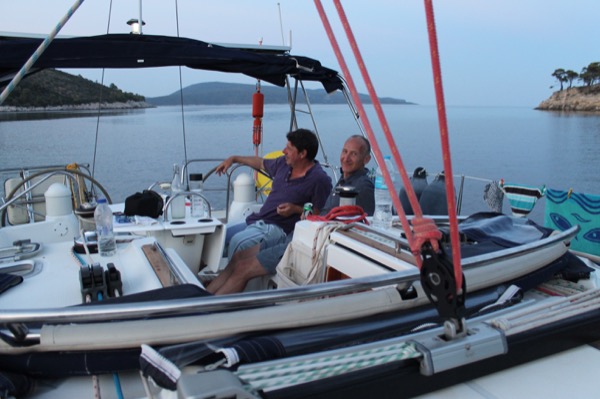 Paul strapped a rope under the boat and spent some time scrubbing algae off the hull and cleaning the side decks


Jo did a sketch of the promontory, now brightening up our saloon between our cards from Jean and Karen.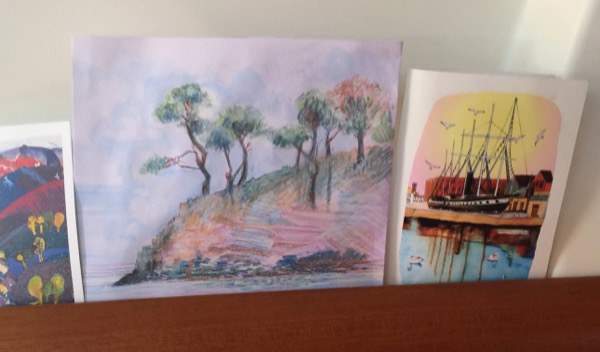 Reub and Jo discovered the fish come right up to you if you take some bread with you when swimming. Here I am feeding the fish. Am I really that colour on top? Quite like it actually.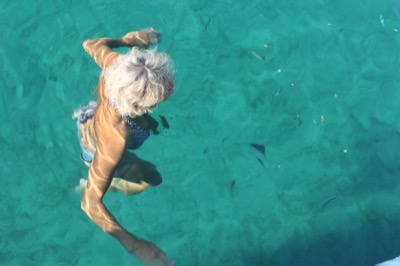 That night we watched a Blood Moon rise for the longest lunar eclipse this century.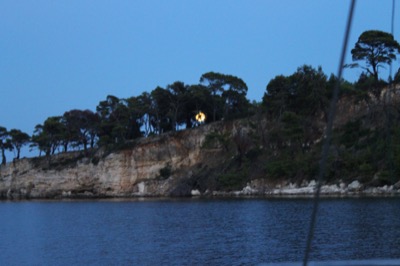 We could not have asked for a better viewing position to watch the moon rise and Earth's shadow gradually encroaching on the moon. We stayed up till midnight and went swimming with the sparkling fluorescent algae lighting up our every move. Stars above and below. The 'Blood Moon' cocktail was created on this very evening. If you lack the full ingredients for a Mojito just stir together some red rum, a pinch of Greek basil, lashings of sugar and some tonic water and presto! you have yourself a Blood Moon cocktail. Has a bit of bite to it. Fiery Mars is in the mix. Best imbibed to the sound of Cat Stevens singing 'Moon Shadow'.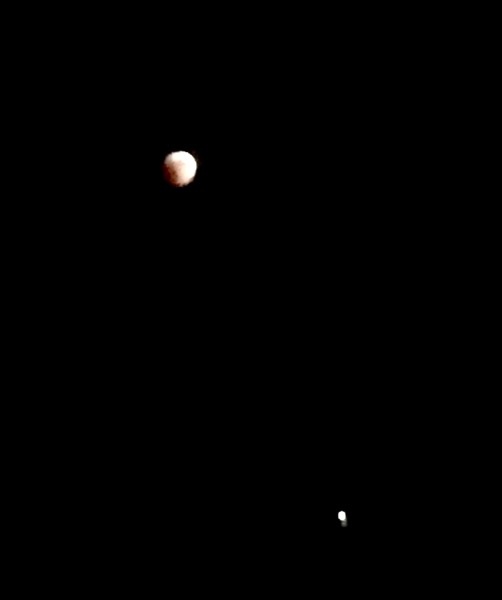 Next day after breakfasting in Patatiri we waved farewell to Reub and Jo as their ferry left the port. Adieu kind friends... Thank you for the lava necklace and the books on philosophy and the art of travel, the guide to Greece, the beautiful sketches and the happy memories.